Voxeet Brings Free HD Voice Conferencing To Android & iOS
Voxeet is a cross-platform VoIP conferencing app for Windows, Android and iOS that is acknowledged for its high quality voice technology, 3D audiovisual indicators to easily identify the currently speaking participants, and the option to transfer ongoing conferences across devices on-the-go. Besides being a handy voice conferencing tool for individuals and professionals alike, Voxeet happens to be one of the most user-friendly apps of its type. It requires minimal configuration, and its intuitive virtual conference table UI helps you with recognizing and organizing participants to make the experience as close to real life conference as it gets. Once a conference is initiated, you may invite new participants or leave the meeting without interrupting the current setup. You may also initiate a private one-to-one conversation with select participants from within an ongoing conference. In case you're required to switch locations, you can carry your current conferences along with you without having to disconnect and then redial afresh. More to follow.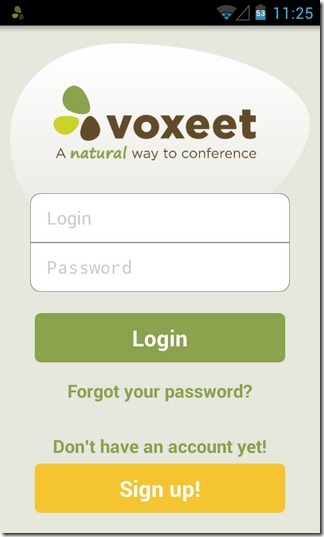 On desktops, Voxeet is currently compatible with Windows-based computers only. The desktop client has been around for a while, whereas the mobile apps have been launched just recently. Both the service itself and all its apps are free during the initial launch.
To begin conferencing, you're required to log in with a Voxeet account. New users can signup for a fresh account right from within the app for free. Once logged in, you can start inviting your contacts via Facebook, email or through the app's native invite feature. Another useful feature of Voxeet is its ability to maintain a history of your live, missed and past conferences.
To start a new conference, head over to the contacts section of the app, select as many intended participants as you want, and press Call. Once the contacts accept the conference call, all the active participants will be able to see a full-screen interface, complete with each others' avatars and relevant volume level indicators to easily tell who's currently speaking. You can drag-and-drop these these avatars on your screen to rearrange them according to your liking.
Better yet, if an avatar is placed on the left side of the virtual conference table, you'll be able to hear their voice through the left speaker of your headphone, and vice versa, adding a reality simulation effect to give you a more realistic conferencing experience. To begin a one-to-one conversation with a particular participant, just tap their avatar and select Whisper.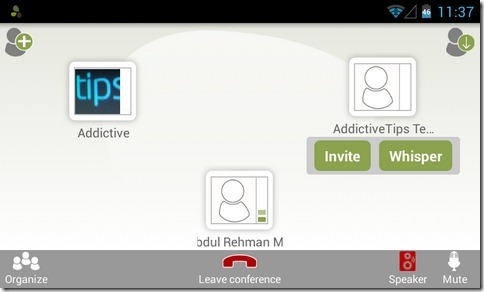 Barring a few force close instance, the app worked fine during our brief test. Voxeet certainly has the potential to be considered an ideal voice conferencing tool for individual users, businesses and organizations. The app's superior voice enhancement technology, immersive virtual conferencing environment, and convenient call transferring features make it among the leaders in its class.
Download Voxeet For Android
Download Voxeet For iOS
Download Voxeet For Windows