Worldscope Webcams 4.0 For Android Brings Holo UI, Tablet Support & Time-Lapse Recording
Worldscope Webcams is popular multilingual Android app that lets you view virtually any part of the world in real-time with the help of thousands of live webcams that are installed at various locations in some of the most scenic regions around us. Be it streaming High Quality views of Niagara Falls in Canada, Eiffel Tower in Paris or live traffic camera view of the roads of Melbourne, Worldscope Webcams has you covered. Not just that; the app also lets you keep an eye on the weekly weather forecasts of selected locations, discover new webcams from all across the globe, set a favorite webcam view as your live wallpaper, bookmark favorite locations under various groups, enjoy breathtaking time-lapse videos of some of the most revered locations on Earth (from various perspectives), explore amenities near the selected locations, and search for, as well as share, your favorite locations with your mates, all from your Android. If you're already impressed by the app's set of features, let us inform you that a totally revamped beta version (4.0) of Worldscope Webcams has just hit the Play Store, which is designed in accordance with the latest Android (ICS) standards. Apart from the much-needed facelift, the latest update also brings several handy features, including customized time-lapse recording of your favorite live webcam views, optimized layout for Android tablets and Google TV, and plenty of bug fixes.
Although not the only app of its kind in the Play Store, Worldscope Webcams has been enjoying its fair share of user base, courtesy of its extensive live webcam database that comprises hundreds of location cameras, traffic cameras and weather cameras, powered by webcams.travel.com.
In terms of graphics, we now have a brand new Holo-themed homescreen that lets us explore different featured webcam views from under several categories, including Popular, Random, New, Recently viewed, and Time-lapse video. Using various other tabs at the top, one may jump to Favorites list, Search for a desired location (on map), and keep tab on a custom time-lapse Recording.
While enjoying a specific webcam view, you can add the location to favorites, manually refresh the scene, toggle between live image and time-lapse video view (if any), switch to the Daylight view, see current location on map, find nearby hotels, save the current view as an image, share the view with your buddies, set it as wallpaper (with custom update frequency and preference), or activate the time-lapse recording feature. Each time-lapse recording can be set to fetch fresh images at a custom time interval (in seconds, minutes or hours), and can be paused whenever required.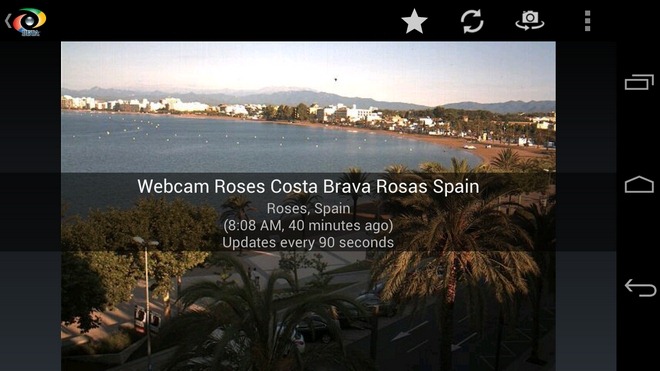 All the added time-lapse tasks, along with the underlying images, are listed under the app's Recordings screen, and can be paused/resumed with just a tap. Needless to say, the total number of captured images, along with the time of capture, is displayed alongside each task. Unfortunately, the app does not support binding these captured images into time-lapse videos, meaning that you'll have to make do with just multiple static images that are recorded at the user-specified time intervals.
We are not done here; the app also sports a couple of homescreen widgets that can keep circling live webcam images from a random location from within your favorites list, and let you manually update the live wallpaper view according to the current time with just a tap.
As always, Worldscope Webcams comes as an ad-supported, free app that can be upgraded to the Ad-free version for $1.99 through in-app registration.
Download Worldscope Webcams (v4.0) Beta