Yandex Releases Its Alternative To The Google Translate Android App
Language is a fantastic thing. It binds societies and lets people communicate with one another. With the world turning into a global village, the notion of learning new languages and visiting foreign countries is drastically changing. Translation apps can be an invaluable asset during those foreign business trips and vacations. While there are a number of translation apps available at the Google Play Store, the Russian search engine giant Yandex has added another one in the genre labeled Yandex.Translate. The app allows users to quickly translate text between a handful of different languages including English, Russian, French, Italian, Spanish, German, Turkish, Ukrainian, Belarusian, Czech, Portuguese, Swedish, Danish and Dutch. When translating individual words, the app can display both the definition and the full dictionary entry including comments and usage examples. Read on for more details.
While the app itself is fairly awesome and almost instantly translates the text, the language database itself isn't very impressive for now, especially when alternatives like Google Translate offer support for a myriad of languages. Nonetheless, it sports an intuitive UI that works exactly as advertised. Here are some of the key features of the app:
Statistical machine translation of words, sentences and whole documents
Simultaneous translation
Full dictionary entries
Predictive typing
Automatic language detection
The usage of the app is quite simple and everything is implemented fairly well. The home screen carries two language panes at the top where you need to specify input and output languages, and tapping on one brings up the list of all supported languages by Yandex.Translate. You can scroll down this list and tap your desired one to select it. Once done, enter the text in the appropriate field at the bottom and, after a few moments, it will be translated automatically – no need to press any translate button whatsoever. Apart from individual words, you may even target whole phrases and Yandex will convert them into the required language in no time. Another interesting bit of the app is the integrated dictionary which provides detailed definitions.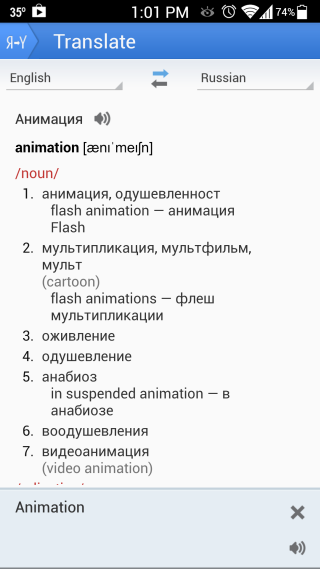 Interestingly, the app also keeps a tap on all your previous translations and saves them under its History section, which can be accessed via the menu button. This section also offers a search field, allowing you to quickly find items from the history. You can also toggle a few parameters from the Settings screen (accessible from menu), like simultaneous translation, (auto) detect language, dictionary view, predictive typing and returning to translate.
The app is available for free at Google Play Store. You can use the download link below to grab it for your device.
Install Yandex.Translate from Play Store