We are reader supported and may earn a commission when you buy through links on our site.
Learn more
The Best RX 5600 XT Card of 2021(Buying Guide)
In this article, we're going to help you find the best RX 5600 XT for 2021.
Despite all the buzz around new GPU releases moving into the New Year, the brutal fact of the matter is this: all those new cards? At the time of writing, they're completely out of stock and completely out of the budget price range of a card like the 5600 XT. If you're here, chances are you're just looking for a great graphics card with an MSRP of ~$300- and that's why we're here to help.

Best RX 5600 XT: Our Top Picks
Below you have our top three picks for RX 5600 XT graphics cards and a small buying guide on how you should pick your products.
Clock Speed: Up to 1750 MHz | Width: 2-Slot | Length: 254 mm | Ports: 3 DP, 1 HDMI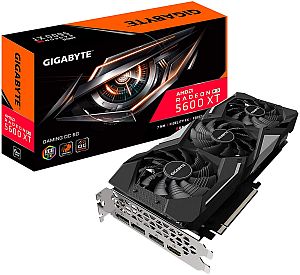 The Sapphire Pulse Radeon RX 5600 XT is our pick for best overall RX 5600 XT, or best balanced.
This is because it has a great form factor that should allow it to easily fit in most cases, among the best cooling performance available in an RX 5600 XT, and is overall just…a well-balanced pick. If you just want an RX 5600 XT and aren't concerned with a bunch of other factors, then this one will likely be the best pick for you- but if you want better cooling or an RX 5600 XT with more overclocking headroom, we recommend looking at one of our other two picks.
Verdict: Best RX 5600 XT / Best Balanced RX 5600 XT
Clock Speed: Up to 1620 MHz | Width: 2-Slot | Length: 280 mm | Ports: 3 DP, 1 HDMI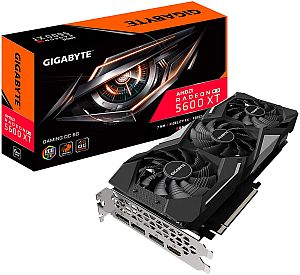 If you want great raw cooling performance for decent OC headroom and have plenty of space for a lengthy graphics card in your PC build, then the Gigabyte Windforce Radeon RX 5600 XT is a great choice for you.
While we wouldn't recommend this one inside a mini ITX or HTPC case, this is a card that can make good use of the increased airflow available in Micro ATX and ATX PC cases.
Additionally, it's usually on the cheaper end of the RX 5600 XT cards when it's available, so that should ease the downside of the increased length for most consumers.
Verdict: Best Cooling RX 5600 XT
Clock Speed: Up to 1750 MHz | Width: 3-Slot | Length: 240 mm | Ports: 3 DP, 1 HDMI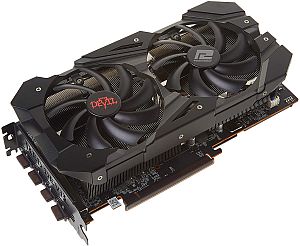 Last but certainly not least is the PowerColor Red Dragon RX 5600 XT.
This is our top pick for an overclocking or BIOS-flashing RX 5600 XT. The length is fairly short as well- actually the shortest in this roundup!- but this is also an effectively 3-slot card, which makes it outright incompatible with most HTPC and many Mini ITX cases.
Additionally, the pricing of this card trends higher than that of its fellow RX 5600 xT brethren, but as long as it's cheaper than an RX 5700 we heartily recommend it for the great value on offer.
As long as it fits in your system and you can afford it, this is easily the top RX 5600 XT. The 3-slot cooler design, BIOS flashing capability, and overclocking headroom all sell that point with great emphasis. Just be sure to compare the pricing of this card with competing options before buying!
Verdict: Best RX 5600 XT For Overclocking / Best RX 5600 XT For BIOS Flashing
Choosing The Best RX 5600 XT For You
In this section, we're going to walk you through all the critical information you need to know about an RX 5600 XT GPU. Even if you aren't particularly tech-savvy, this section should give you all of the raw information you need to know in order to make an informed buying decision, which is by far the most important consideration when investing in PC hardware like this.
Let's dive into it!
How does the RX 5600 XT perform?
If you're gaming at 60 Hz, you officially do not need to worry. The RX 5600 XT is more than powerful enough for blasting through modern games at 60 FPS and higher at 1080p, 1440p, and potentially even 4K (though we'd recommend dialing down settings and using resolution scaling if you plan on gaming at 4K60 with this card for the best experience). At more standard 1080p and 1440p resolutions, it's fairly easy to achieve 100+ FPS at medium-to-high settings, potentially even a perfectly locked 144 if you stick to 1080p or tone down other settings at 1440p.
If you want to see the card in action paired with a Ryzen 7 3700X, we've embedded a video from YouTuber JegsTV below showing the card running at Ultra settings in a whopping selection of 26 games.
Note: we're sticking with models of the 5600 XT that have a VBIOs update that improves their performance in this article- other 5600 XTs not listed here may perform worse.
How does the RX 5600 XT compare to the competition?
The RX 5600 XT was built to compete with the GTX 16- series and the RTX 2060. In terms of raw rasterization performance, it steals the crown pretty handily from the likes of the 1660 Ti and other 16-Series cards, and often exceeds even the RTX 2060.
However, it does not offer real-time ray-tracing like the RTX 2060 or the RX 6000 series GPUs do, and this is a real downside for next-gen gaming experiences. While we still consider it a minor one, especially while the best-case performance scenarios for real-time ray-tracing are still so poor, it's still one worth noting for those who plan on using the same GPU for years to come.
(Speaking of performance and optimization, click here for our PC game settings optimization guide! Now that you're batting in the big leagues of graphics card, that article should come in handy for you.)
How much power do I need for an RX 5600 XT?
The RX 5600 XT consumes 150 Watts of power, more if you decide to overclock it or flash the BIOS to an RX 5700 (on supported cards). Most modern systems shouldn't have a problem meeting this spec, but feel free to take a look at a Power Supply Calculator in order to ensure you have what it takes.
What about the Big Navi and RTX 3000 Series?
At the time of writing, both of these have been released/premiered, but only their high-end GPU counterparts are available! (And often severely understocked, so not worth buying for the majority of consumers today). When the 5600 XT gets a proper replacement in the RX 6000/Big Navi series, however, we'll link to it here and discuss the improvements. At the time of writing, though, if you're looking for a good sub-$300 GPU- this is it!
What difference does clock speed make?
When it comes to GPUs that share the same fundamental chip (in this case, these are all RX 5600 XTs) not very much! That's because GPUs (and CPUs) get most of their power from the number of available processing cores and the architecture that they're using, and less so raw clock speeds.
Higher clock speeds do provide a boost in performance, especially if you choose to overclock your graphics card on your own. Additionally, the manufacturer-done overclocking (often referred to as Boost Clocks) may not improve performance by a massive margin, but can show how confident the manufacturer is in their cooling setup. (Provided the GPUs in question can actually maintain those boost frequencies- the ones we chose can!)
How GPU Length and GPU Width impact compatibility
GPU Length and Width are the specifications that have the greatest direct impact on compatibility in most scenarios, since modern GPUs are generally extremely power-efficient. These are the physical specs that determine whether they will fit in your system at all.
GPU Length is more likely to be the concern, especially as you climb into the high-end. ~300 mm used to be considered a "Full-Length" GPU (nearly 12 inches), but in recent years cooler designs have made the mid-200 mm range closer to average. Be sure to double check the length spec of your GPU and the allowed GPU/VGA length of your case specs before making a purchase! Even if you can return/refund it for a different model if it doesn't fit, that's an extra hassle no one wants to deal with.
GPU Width is rarely a concern unless you're dealing with a triple-slot graphics card. With a 3-slot or 2.5/2.8 slot card, compatibility with certain HTPC and super low-profile Mini ITX cases may not be viable.
Parting Words
And that's it!
We hope that this article helped you learn everything you needed to know about the RX 5600 XT, especially buying one in 2021. If you have any questions or concerns, leave them in the comments below and we'll get back to you as soon as possible.
Happy gaming!