We are reader supported and may earn a commission when you buy through links on our site.
Learn more
Best RTX 2060 Super on the Market (Reviews) in 2021
The RTX 2060 Super is an upgraded version of the RTX 2060 (closer to the original non-super 2070 in performance) released in mid-2019. In this article, we're going to tell you everything you need to know before investing in a graphics card like this one.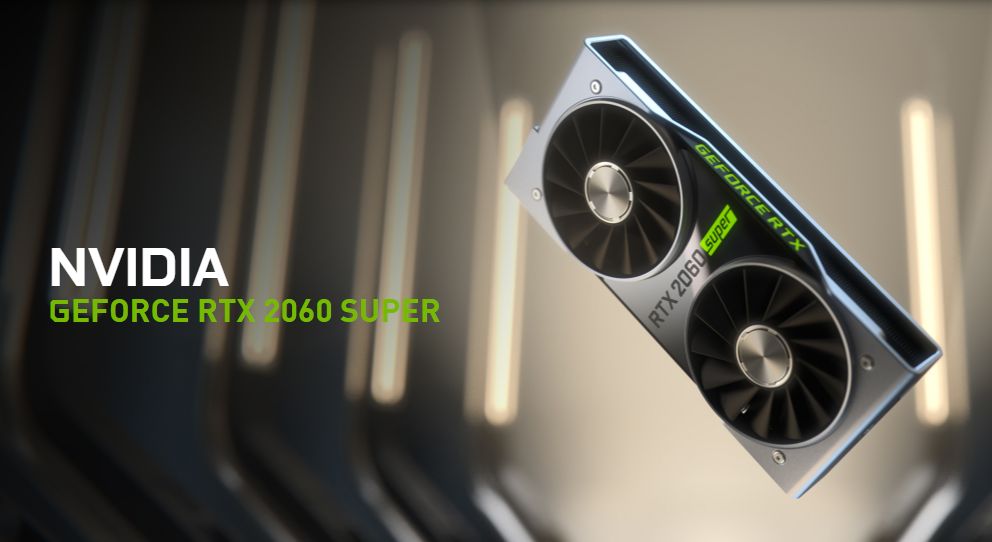 The Best RTX 2060 Super
Why only two? Availability is hyper-limited and this card is going to be succeeded next year, so if we're to say which are the best RTX 2060 Super, it's these two below:
Clock Speed: Up to 1650 MHz | Width: 2-Slot | Length: 210 mm | Ports: 3 DP, 1 HDMI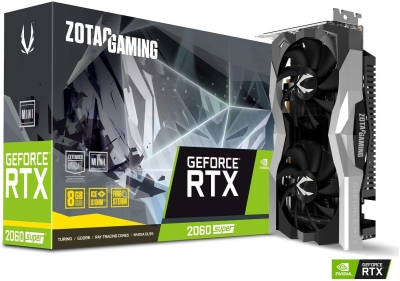 The ZOTAC Mini is our pick for the best small and cheap RTX 2060 Super. This is the go-to card for those who want the 2060 Super at the lowest price or with the lowest footprint in their system, and as long as either of those describe your use case, we'd be hard-pressed to recommend against it.
The only scenario in which we would advise genuine caution is if you're looking to upgrade an older prebuilt that isn't built around a proper Mini ITX/Micro ATX/ATX standard, since you may have difficulty fitting even this into it.
Otherwise, all the fundamentals you need for a good experience with the RTX 2060 Super are here!
Verdict: Best Cheap RTX 2060 Super / Smallest RTX 2060 Super
Clock Speed: Up to 1695 MHz | Width: 2.5 Slot (Closer to 2-Slot) | Length: 248 mm | Ports: 3 DP, 1 HDMI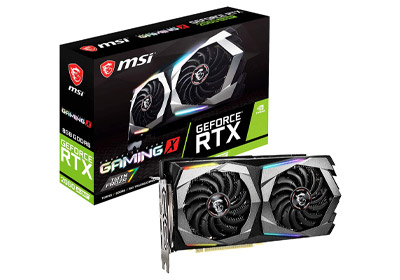 If you want an RTX 2060 Super with a little extra oomph and visual flair, we can't recommend the MSI Gaming X RTX 2060 Super enough. Even if the availability of other cards weren't limited at time of writing, the Gaming X would still be the main contender for best overall RTX 2060 Super due to its well-balanced cooling potential and overall design. It's a bit thicker and larger than the previously-listed ZOTAC card, though, so keep the dimensions in your case in mind before trying to snag this one.
Otherwise, this is our main recommendation if you're buying an RTX 2060 Super in 2020 or beyond.
Verdict: Best Overall RTX 2060 Super / Best RTX 2060 Super
FAQ and Choosing The Best RTX 2060 Super For You
In this section, we're going to tell you everything you need to know in order to make an informed buying decision! This includes how to tell the difference between different 2060 Super versions and how the 2060S competes against both next-gen offerings and intended same-gen competition from AMD with the 5600 XT and 5700 XT.
Let's dive into it.
How does the RTX 2060 Super perform?
First and foremost, let's establish a basic expectation of RTX 2060 Super performance. Playing at maximum settings in modern games, expect to achieve great FPS (90+ if you don't change any settings, which you should on a high-refresh display) at 1440p and superb FPS (150+) at 1080p. 4K gaming will require settings adjustments, as will getting locked 120/144 Hz at 1440p, but these are ultimately minor downsides that shouldn't majorly impact your gaming experience.
In addition to great raw power, the 2060 Super offers built-in hardware allowing for real-time-ray-tracing and DLSS. We'll expand on these in a little bit, but we'll pre-emptively say that DLSS in particular is a great companion in supported titles.
How does the RTX 2060 Super compare to the competition?
In terms of raw gaming performance for the money, we'll be blunt: the 5600 XT is much cheaper and offers most of the same performance, and the RX 5700 XT is just straight-up better. However, Nvidia GPUs do have advantages that AMD GPUs don't. This includes a far better built-in GPU encoder for streaming and rendering video, as well as more advanced driver features (like Nvidia Reflex) and superior OpenGL drivers
What about DLSS and ray-tracing?
As a new decade of gaming (the 2020s) begins, chances are you're going to want a graphics card with the latest and greatest features.
Ultimately, despite how advanced it is, ray-tracing utilization is still fairly expensive. Even on the next-gen consoles built around it, using it comes with great performance downsides and ultimately-minor visual changes- this is not a system-selling or GPU-selling feature, but still a factor worth considering if you want truly next-gen visuals.
The real selling point of RTX GPUs has steadily revealed itself to be DLSS, at least in supported titles. DLSS uses a lower rendering resolution and, with the help of AI upscaling, will often present an image that looks better than a native resolution one. While this is limited to a few select supported titles (ie Control and Death Stranding) at the time of writing, it's still a fairly nice-to-have feature that helps alleviate the performance penalty of ray-tracing effects.
What about the Big Navi and RTX 3000 Series?
At the time of writing, these aren't out yet! (RTX 3000 has had an early launch, but currently, all cards are being sold exclusively by scalpers.) In this particular price range, we wouldn't worry for quite some time- this is still likely the best deal you're going to get on a ray-tracing GPU until at least mid-2021, potentially longer. We'll update this article with links to the new Nvidia and AMD options whenever this one becomes truly obsolete, but if you want to buy a GPU today, we aren't going to dissuade you!
What difference does clock speed make?
Between like GPUs, not a whole lot. There is a noticeable difference (especially if you do your own user-end overclocking), but most graphics cards come pre-overclocked by the manufacturer for an at least minor bump in performance over the stock versions.
However, factory overclocks often do correspond to a manufacturer's confidence in their cooling power- in the case of high end cards like those from ASUS ROG and MSI Gaming X, this is commonly the case.
How GPU Length and GPU Width impact compatibility
GPU Length and GPU Width are the specifications that most directly impact compatibility- even a GPU with too-high power requirements could be made to run on a weaker system with proper downclocking, for instance. Nothing can argue with hard physical requirements, though, so you may have difficulty fitting a 280+ mm graphics card into smaller cases, especially Mini ITX cases.
In short, double check GPU length and width- length especially- against the specifications of your case of choice. Standard Mini ITX, Micro ATX, and ATX cases should all work with the options we've provided in this article, barring extremely slim or small (ie HTPC or low-profile) cases.
Can my power supply handle an RTX 2060 Super?
This depends on the rest of your system, but it should be able to. Most modern PCs- even with high-end components- don't consume nearly as much power as they used to. The RTX 2060 Super draws 175 Watts of power by itself, though, and we recommend using a wattage calculator right away if you aren't sure about your system's power limitations.
Generally speaking, though, a PSU with a wattage of 500 Watts or higher should offer more than enough power for a GPU of this caliber. Double-check if you're using a smaller-capacity PSU.
Parting Words
And that's it! That's all the information you need to know to make an informed buying decision regarding the RTX 2060 Super- let us know if you need any help beyond that.