We are reader supported and may earn a commission when you buy through links on our site.
Learn more
Best Liquid CPU Cooler of 2021: Reviews + Buying Guide
Trying to find the best liquid CPU cooler for 2021? Whether you're a savvy enthusiast just wanting a quick list of the best picks or a newcomer who wants to make an informed buying decision, we have you covered.
Liquid cooling offers a number of benefits over air cooling, not the least of which is bragging rights and quieter operating temperatures. Check out the buying guide below if you find yourself with any questions- otherwise, let's dive right into our top picks!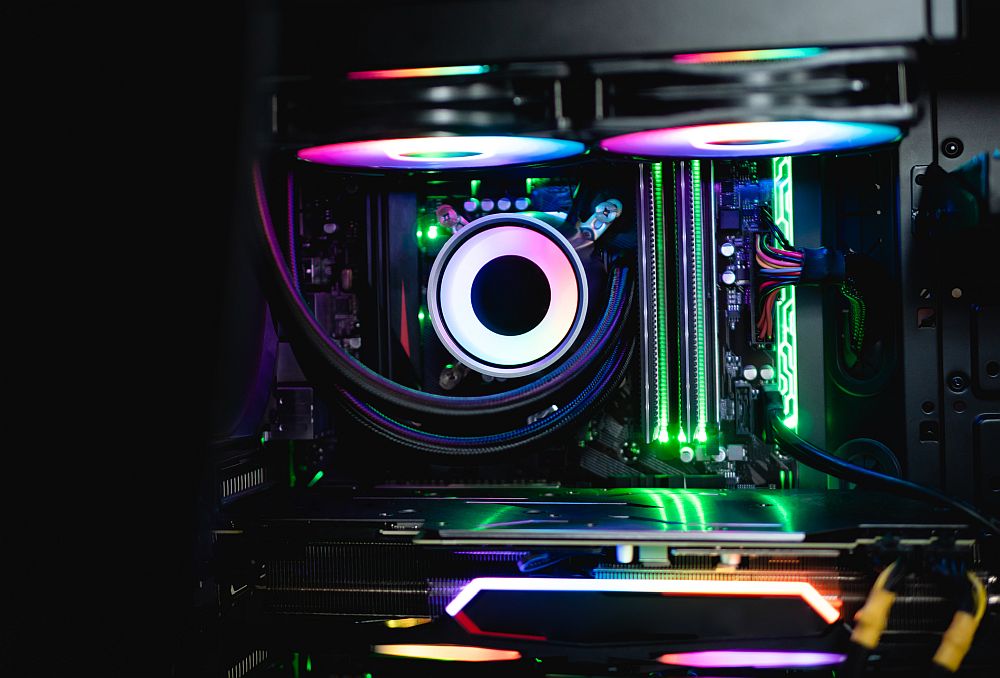 Best Liquid CPU Cooler For 2021: Our Top Picks
We've done the research so you don't have to, here are our top picks for the best liquid CPU cooler on the market this year.
Buying The Best Liquid CPU Cooler For You: FAQ & More
In this section, we're going to cover all the big questions you might have about buying a liquid CPU cooler. If you don't feel like you know enough about liquid cooling, this part of the article should ease your concerns a bit and help you make an informed buying decision.
What makes Liquid Cooling different than Air Cooling?
First, the obvious question: what makes liquid cooling different than air cooling?
Truthfully, not a whole lot. CPU cooling in general is based around thermal conductivity. A traditional air cooler accomplishes this by using metal to conduct heat to a heatsink, from which the heat carried from the CPU through the thermal paste to the cooler can be safely radiated off. This is called passive cooling, and is common on portable devices. Add an active fan or two to said heatsink and you get active cooling.
So, how do you accomplish this goal with liquid?
Simple: liquid takes the place of the metal. More accurately, liquid coolant (usually not straight water, as this can be dangerous to your system and also erode tubing over time) circulates from CPU to radiator. The radiator, which is now mounted to one or more fan slots inside of the case, takes the place of the heatsink- this is where you put your fans and cool the liquid, and by extension your hardware.
Depending on what you want, this can be a better or worse solution than traditional air cooling. More on that below.
Is Liquid Cooling better than Air Cooling?
It depends!
One way that liquid cooling is outright better than air cooling is noise levels. While both liquid and air cooling need to use fans in order to dissipate heat, an air cooler's fan is directly on a heatsink and has little assistance. With a liquid cooler, the coolant liquid already does quite a lot of work to dissipate heat well before the fan enters the equation, and once it does it's able to reach the same low temperatures- if not better- at much lower fan speed (RPM). In turn, less noise.
High-performance air coolers can often compete with liquid coolers, especially AIOs. Higher-end AIOs (especially those with larger radiators) can win out, though this comes at the penalty of a much higher price. Custom loops can offer further benefits, but at the cost of a much higher price and more maintenance/building concerns.
Overall, the choice between the two depends on your needs. Just want the best bang for your buck? Air cooling will do the trick. But if you want super high-performance cooling or simply want temperatures to be as quiet as possible, liquid cooling will be the better option.
What about custom loop setups?
As prior, custom loop liquid cooling setups can provide the best overall cooling performance and noise levels. However, this also means spending much more money- and a lot of per-scenario setup that goes outside of the scope of this article. If you aren't already an enthusiast, we don't really recommend getting into custom loop setups- especially not if it's your first PC build or you don't have the money to replace parts in case of a loop failure. If you're extremely confident and willing to do the research and extra work, though, a custom loop setup can prove to be a fun project with real performance benefits- or you can simply pay to have it done for you.
Is a larger radiator better?
Yes, but it needs to be built properly (length and width are good, thickness may not be) and have proper fan coverage. An insufficiently-cooled 360 mm radiator may not do as well as a properly-cooled 280 mm radiator, for instance.
Is higher fan RPM better?
Yes- higher fan speed translates to more air being moved, and more air being moved = lower temperatures. However, the way that the fan is constructed matters as well- some fans are built for static pressure (pushing through a heatsink/radiator with great force) while others are built for high airflow (usually exhausting out of a case with little resistance, or intake). Higher fan RPM also translates to higher noise levels, though yet again the exact noise level will vary from fan to fan, with many built to stay quieter at higher RPM than others.
Parting Words
And that's it!
We hope that this article helped you find the best liquid CPU cooler for your needs, and that we answered any questions you might have had. If you have any more questions, feel free to ask them in the comments section down below- we'll do our best to help you out!