Greenpois0n Jailbreak for iPod Touch 2G iOS 4.1 MC and MB Models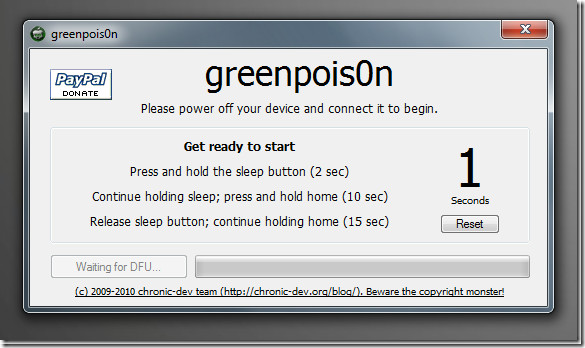 Finally there is some great news for all iPod Touch 2G [MC and MB Model] owners looking to jailbreak on iOS 4.1 with Greenpois0n. Greenpis0n release candidate 4 is now posted on Greenpois0n website that will not only jailbreak iOS 4.1 / 4.x on MB iPod Touch Models, but will also jailbreak iPod Touch 2G MC Models.
iPhone hacker and developer associated with Chronic Dev Team just tweeted: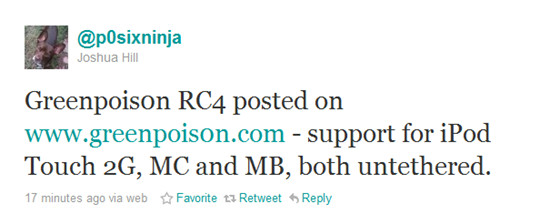 In order to jailbreak your iPod Touch 2G With Greenpois0n on iOS 4.1, you will need to follow these steps:
The first step is to download Greenpois0n and save it on your desktop.
Now connect your iPod Touch 2G to the computer and exit iTunes.
Once this is done, double click on Greenpois0n.exe you saved on your desktop.
Now press and hold the sleep button for 3 Seconds [the count down on application screen will show you].
Now continue holding the sleep button and press home and hold it for 5 seconds.
After 5 seconds, let go of Sleep button while you continue holding home for 10 more seconds.
Now your iPod Touch will go in DFU mode. Sit back while Greepois0n jailbreaks your device.
Once the jailbreak is done, launch loader and click on Cydia icon to install it.
There you go! You now have your iPod Touch 2G jailbroken on iOS 4.1 with Greenpois0n.
Disclaimer: Please use this guide at your own risk. AddictiveTips won't be responsible for any damage incurred to your device due to this guide.