Bamboo Feed Reader For Firefox Conveniently Allows You To Manage Feeds
Bamboo Feed Reader is a Firefox add-on that enables you to monitor and manage your RSS feeds,  supporting Atom and RSS formats. You can easily add feeds by copy-pasting URLs. Furthermore, it allows you to block ads for HTML content, and provides automatic updates. The add-on features two different views for feeds; they can either be displayed as a List or Content. You can filter your feeds by selecting the All or Unread options.
Bamboo Feed Reader has a main menu right on top of the page. Feeds can be added using the Add option. In addition, you can use the Import option to import or export feeds with an OPML format. Feeds can either be displayed as lists, or as contents, depending on your preferences. The contents option displays the entire feed with images, and allows you to read it in detail. You can also update, add or delete a certain group of feeds.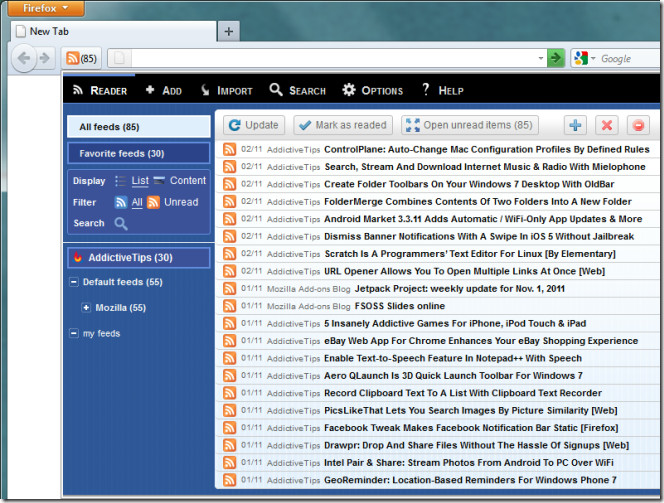 The add-on allows you to choose to open links in new tabs, mark items of the current page as read during the transition to another page, or activate the ad blocker. The ad blocker is based on an editable black list, so you have more control over what you want to see and what you don't want. To limit the number of displayed items, pick a specific number displayed in the options panel. Display settings allow you to change the main reader menu, while you can check the Activate automatic update option to receive feed updates.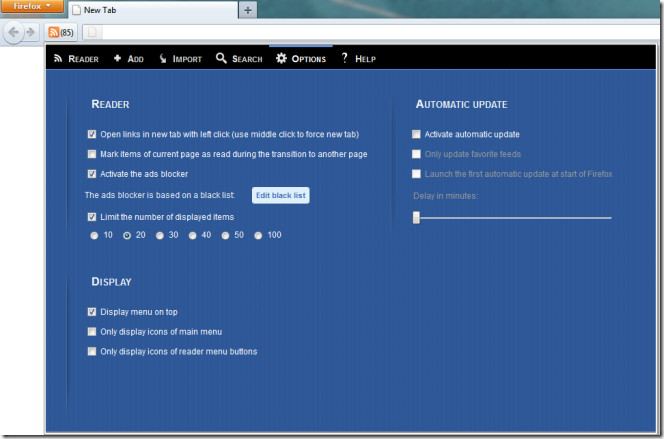 This add-on is quite useful, and conveniently allows users to manage their feeds without opening new windows or tabs, or a dedicated RSS reader, for that matter. To install this handy Firefox add-on, visit the link below.
Install Bamboo Feed Reader Add-On For Firefox