BetterLinks: Inserts Automatic Links To High Quality Content On Websites [Chrome]
BetterLinks, a Chrome extension, lets you navigate the web in a fast and effective way by inserting contextually relevant links to high quality, popular content. It inserts automatic links to articles, images and websites where you can learn more about the things you are interested in. It works perfectly and makes custom recommendations for you. The extension inserts dashed-underlined links on websites, where you can simply hover your mouse over these links and view content in a compact pop-up. Follow the links to relevant sources, or click Search For More option in the pop-up to view search results based on the link.
BetterLinks helps you avoid clutter and takes you straight to the relevant content. The extension retrieves content from trusted sources, such as, Wikipedia, The NewYork Times, Amazon.com, TIME and more. BetterLinks inserts dashed-underlined links on websites, so whenever you want to find more about a term or topic, simply hover your mouse over the links and get short descriptions in a pop-up, click the link or Search For More option.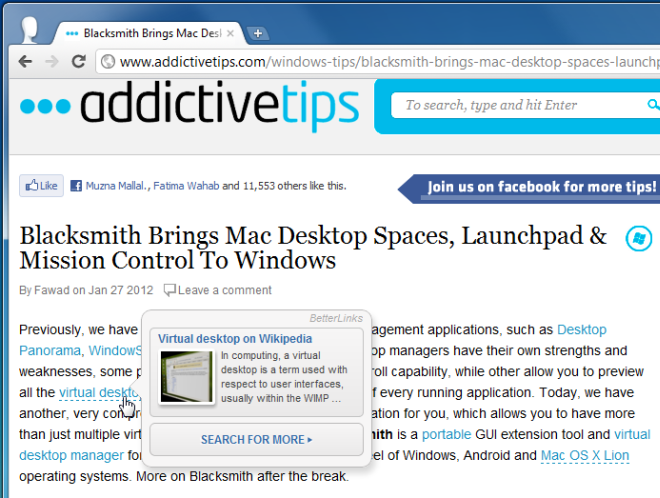 When the Search For More options is clicked, BetterLinks service displays search results from various sources in a new tab.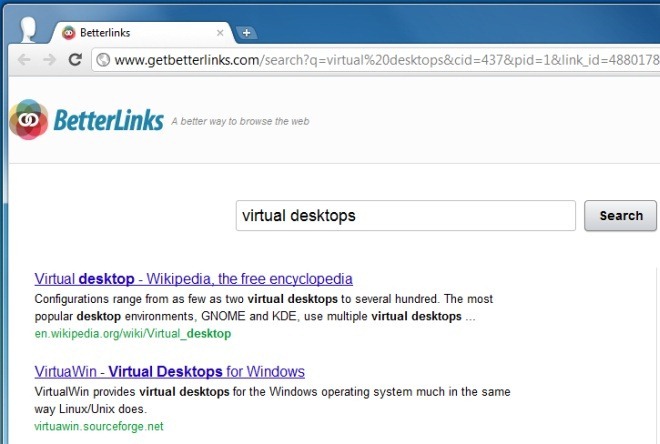 The extension pulls information from multiple resources. The dashed line takes just a few seconds to appear but will not appear until the page has loaded fully. You may have noticed some websites support this mechanism themselves. Such websites have embedded code that allows this 'info links' to connect to a related resource for a topic or a word. Not all websites do though and BetterLinks aims to give you that feature regardless of which website you visit.
What's slightly off putting is that in order to use the extension you have to enter you email. While the developer promises you won't be spammed, no reason is given as to why your email is required. The extension does not slow down a website when it is loading. You won't notice any adverse effects on your browsing experience. While some sources of the info links are authentic and reliable (such as Wikipedia) others are slightly less so so be careful where you read information from and verify it if a website does not seem authentic.
On the face of it, BetterLinks appears to be private & secure, and does not track any personal information. Additionally, BetterLinks is completely disabled on secure (SSL) pages. This extension lets you find answers to all your questions as you browse the web. It can be useful especially when you're short on time and need to find answers.
Install BetterLinks For Google Chrome