Use Skype Online, No Need For Desktop Client
Recently I needed to voice chat with one of my friends today on Skype but didn't want to download the desktop client. There are some situations where you don't want to install the desktop client and I fell in one of them. Personally, I never use Skype client on netbook, this is because there are already some apps running and Skype would eat additional memory.
Suppose you have a borrowed laptop or netbook, how would you Skype with your friends without having to download, install, and finally uninstall the desktop client? What if you are sitting on a public computer and need to quickly voice chat with someone over Skype?
The desktop client of Skype for Mac, Linux, and Windows is now history. Meet Imo.im, the latest web service that is silently building a killer platform. We reviewed it last week, but the need didn't arise until today.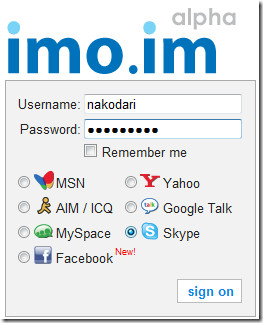 Select Skype, enter the username/password, and hit Sign On. Wait a few seconds and you are in. Login time for Skype desktop client is more than 30 seconds on my side with a 4Mbit connection, while Imo.im was able to login within 10 seconds. Should we call this impressive?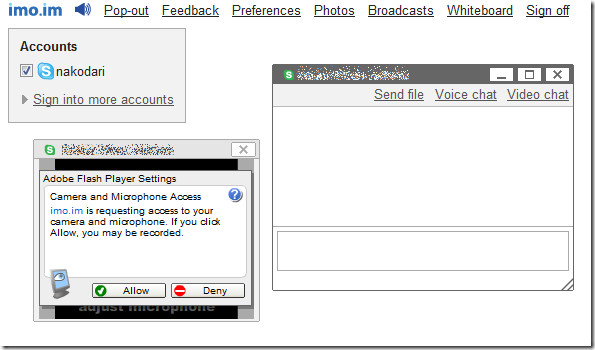 Select the friend with whom you want to voice chat or video chat from the right-sidebar and hit the respective link given on top of the chat dialog window. You can also share a file in just two clicks.
So how was the voice quality? In my friend's own words, "Voice quality is a little low when compared with desktop client but is very understandable." and I tend to agree. This could be either because Imo.im is trying to make voice chat seamless(by reducing quality) or due to the fact that my friend was using Skype on his iPhone.
In conclusion, I would stay that it is one great way to make a quick voice or video call without wasting any further time. The minimalist design combined with great functionality makes Imo.im a sort of online Skype messenger.
If you know of any other service that supports Skype, do let us know and we will give it a shot. Enjoy!