Chrome RapidShare/MegaUpload Download Extension
Rapidshare DownloadHelper and MegaUpload DownloadHelper are two extensions developed by the same author. They both automatically download the file from Rapidshare and MegaUpload once the download counter has come to an end. Thus, you will not have to wait a minute or so before manually initiating a download.
Unlike Firefox's Skip Screen that can skip the countdown, this extension simply initiates the download once the countdown is finish. As an example see the Rapidshare screenshot below.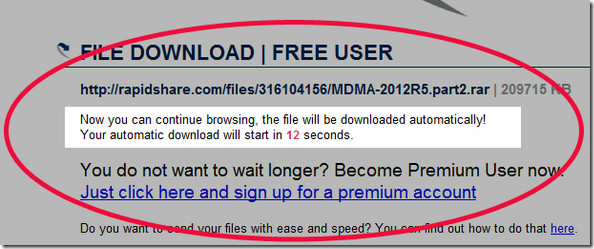 Download Rapidshare DownloadHelper Extension
Download MegaUpload DownloadHelper Extension
All we need now is an extension that can skip the countdown and take us directly to the download link. 😉
Nakodari is a founding editor at AddictiveTips who is searching among hundreds of extensions to find the best ones for the readers, he occasionally reviews extensions to help beginners turn pro.