Download Photo Albums From Facebook Using A Firefox Plugin
There are times when you need to download your friend's photo albums on facebook. Some might argue that it is a breach on one's privacy, but i disagree. Suppose you and your friend go out for a trip, he brings the camera and take photos all the way, finally he uploads them to facebook and tags you. Now you want to download these photos, instead of downloading them one by one you can save plenty of time by downloading the full album with a single click.
FacePAD is a free Firefox extension that lets you download any photo album from facebook instantly. It is dead simple to use, once you have installed this add-on, right-click the Album name and select Download Album with FacePAD as shown in the screenshot below.
Note: FacePAD for FireFox has been discontinued.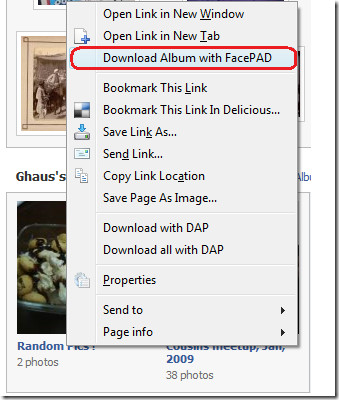 The photos will be downloaded to your Firefox's default download directory. It will download 20 photos(1 page) at a time and will show you a pop-up box asking you to begin the download  process. If you have more than 20 photos in your album(multiple pages), then it will show you a pop-up javascript box for each page.

There are other tools available for downloading photos from facebook, but this is the fastest way so far. Enjoy!
Note: If you are using Windows and are looking for a way to upload multiple photos to facebook easily then check out this post.