Drag & Drop Tabs From Firefox To Desktop To Create Shortcuts
Bookmarking a page in your browser is one of the most common ways to save a link but it's just as practical to save a link to a folder on your desktop. Not only can you select and open all links at once but you can also delete them just as easily. Drag Tab as Shortcut is a simple Firefox extension that lets you create shortcuts by dragging & dropping tabs on your desktop. Creating shortcuts on your desktop ensures you have less clutter in your bookmarks and that once you're done using them, they can be removed with ease.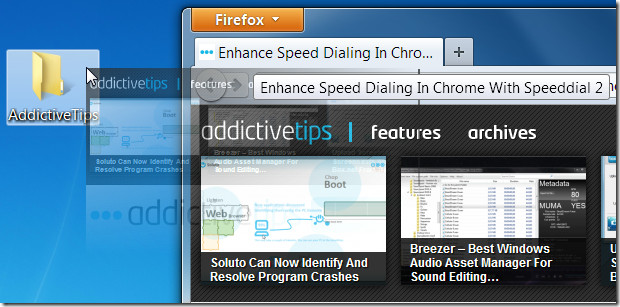 Once the extension is installed, select and drag a tab as you would when opening it in a separate window. Instead of opening in the new window, a shortcut to the link will be created on your desktop. Shortcuts can also be created in folders by dragging and dropping the tab on a folder. If you have a folder you want to save multiple links to but it isn't in your local drive, create a shortcut to the folder on your desktop and drag & drop the tabs on the folder shortcut.
You can also drag & drop a tab on to the taskbar and it will be added as a pinned tab in your default browser. The extension can make it easy to share multiple links on chat or email by adding and sending them in a single folder instead of copying and pasting the links from the URL bar.The extension disables the detach and open in new window function for tabs but you can right-click the tab and choose Move to new Window and the tab will open in a new window. You will still be able to drag & drop tabs between windows. Shortcut thumbnails are created from the site's favicon. Remember; you only need your most frequently visited links in your bookmarks bar and not random ones that you save when you're researching something.
Install Drag Tab as Shortcut For Firefox