Drippler – Get Latest Information On Devices You Have Or Want To Own
Whether you're a technology fanatic or you just want to know more about some of your favorite devices but find it hard to keep up with the news or find authentic resources for it, you might want to give Drippler a try. Drippler is like the Google Reader of device news only it fetches news for you and you don't have to add feeds to it. The web service asks you to choose which devices you want to get news for by either citing that you have the device or you want it. It then provides information for those selected devices when you log in to your Drippler account.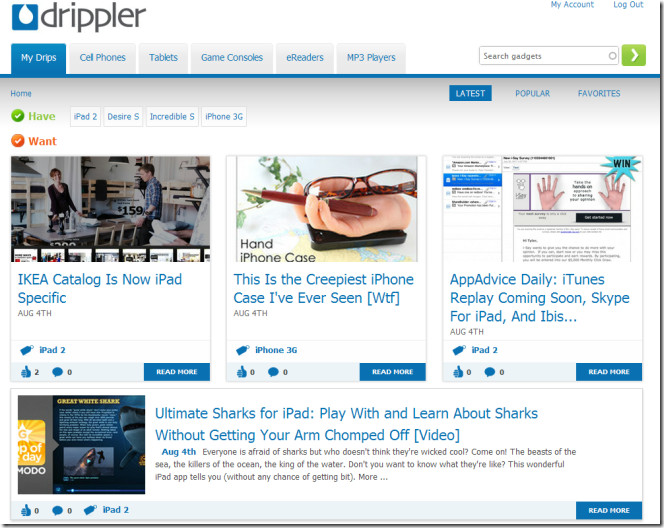 You can create a separate account or use your Facebook account to start using the service. The site provides information about Cell Phones, Tablets, Game Consoles, eReaders and MP3 Readers. There is a separate tab for each that you can find devices on to follow or you can search for a device by name using the search bar.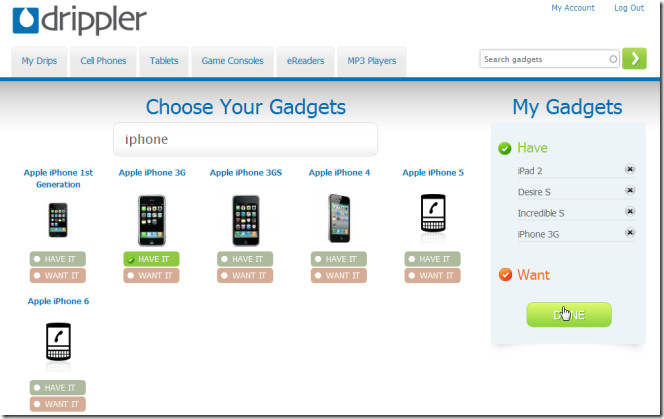 To follow news for a specific device, select either Have It or Want It. You can edit which devices you follow at any time from the device tabs. The site lets you share news on Facebook and Twitter, you can mark news as important, irrelevant, duplicate or inappropriate and add an item to your favorites list.