EverTab: Access Bookmarks, Extensions, Downloads & More From New Tab Page [Chrome]
EverTab is yet another speed dial extension for Chrome that gives users instant access to their bookmarks, apps, extensions, downloads, options, flags, memory and more. EverTab allows you to customize the new tab page and add bookmarks to it. You can set custom background images and add images for individual thumbnails. All your favorite websites can be accessed from within the same tab, allowing fast navigation. An even better thing about EverTab, is that you can add up to 12 rows and 20 columns, which means a large number of thumbnails can be added to the new tab page. Simply change the number of rows and columns from settings, along with the thumbnail size and background image.
The extension modifies the new tab page, and allows you to access Bookmarks, Chrome extensions, Your Apps, Your Extensions, Downloads, Options, Flags, Memory and Clear Data options. When you hover your mouse over the thumbnails, the website's name is displayed, making thumbnails useful even if you don't have a custom image set for each website. The thumbnails are arranged in a very elegant way, and you can easily change the layout by accessing settings. Right-click the thumbnails to access the Open in new tab, Open in new window, Edit Shortcut or Remove Shortcut options.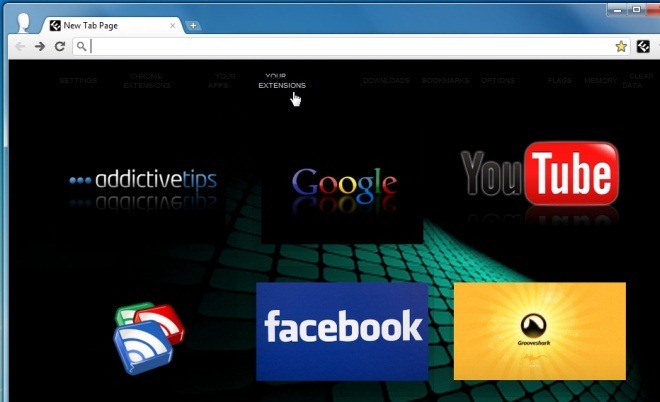 Click the Settings option located to the left hand-side of the page to enable thumbnails, change the number of rows and columns, change the thumbnails size and enter a Background Image URL. You can add the image either by copy-pasting or by dragging the image into the URL bar. The extension also offers users with its own collection of background images. Once done, click Save & Close, and you're good to go.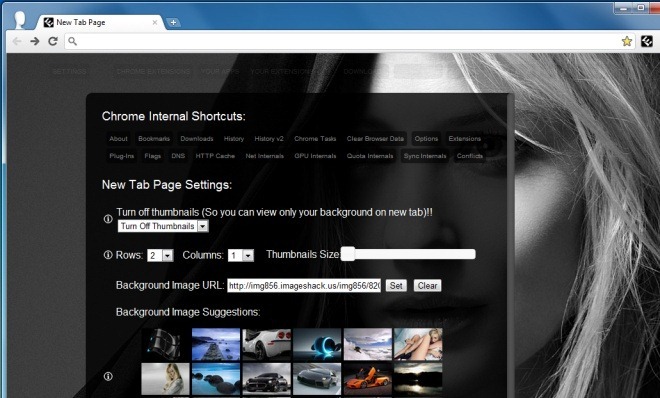 EverTab saves up time and lets you browse the web in a more organized and neat way. You can grab the extension from the link below.
Install EverTab For Google Chrome