Fast eBay Search: Quickly Search eBay From Your Chrome Toolbar
If you like shopping for a variety of goods on eBay and want to quickly search for different items with parameters such as price, category and listing type, then Fast eBay Search, a Chrome extension, provides you with quick access to eBay through a pop-up menu. Not only does this extension provide users with quick access to eBay, but also lets you save all your searches. Fast eBay Search does not run in the background, so no browser memory is used when the extension is closed. Details after the break.
Simply click the button in the toolbar to open the eBay pop-up, type in a search term or click Advanced Search Options to enter multiple parameters, such as Price, Listing, Category and Region. Once done with the parameters, hit Enter, and results will instantly be displayed in the pop-up. The pop-up consists of four main tabs, Results, Saved Searches, Watching and More. The results category displays a list of results that can conveniently be navigated by clicking the Next/Back buttons. You can also click Save to store search results in the Saved Searches tab.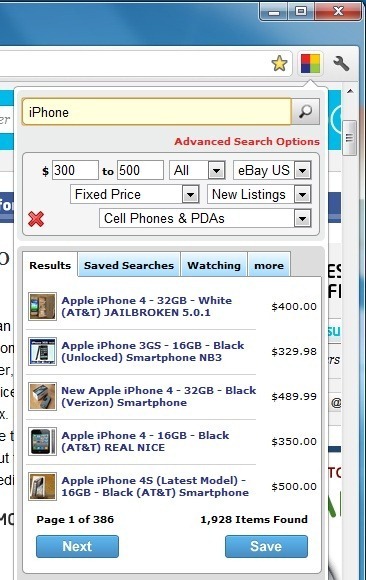 Clicking on individual search results allows you to view more details for products, such as Price, Time left, Condition and Location. Also, when the View option is clicked, eBay opens in a new tab with your search results' actual page. Click Watch, and search results will be added to the Watching category. In order to clear the Saved Searches and Watched Items, go to more and click Reset Extension.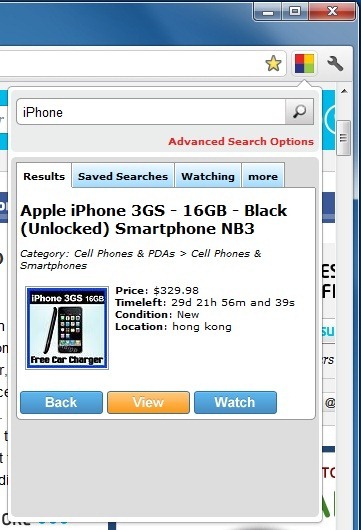 Searching eBay is a breeze with Fast eBay Search, so visit the link below and give it a try.
Install Fast eBay Search For Google Chrome