Boost Game And Internet Performance With Toolwiz GameBoost
When playing games on your PC, system resources can get easily strained, resulting in lags during gameplay. Many users either do not know the precise settings to switch off unwanted system services (for better gaming performance), or find it annoying to continually switch between numerous systems settings. Toolwiz GameBoost is a Windows tweak for optimizing system settings, and for increasing your gaming and internet performance. Unlike other tweaks of its kind, it does not require complex configurations.
The options provided by Toolwiz GameBoost are quite simplified and easy to understand. Furthermore, the applied changes are not sticky, and are undone the moment you quit gaming mode. This enables easily reverting back to the default system settings after playing a game. To optimize your system settings, select the required options and click Enter GameBoost Mode. The options that can be applied, include stopping keyboard hotkeys, network share, scheduled tasks, Windows updates, sharing media and other devices, proxy auto-discovery, printer support, Aero Glass effect for Windows 7/Vista, application compatibility cache, network neighborhood, graphics and other devices. You can also defragment the system memory and a selected game path.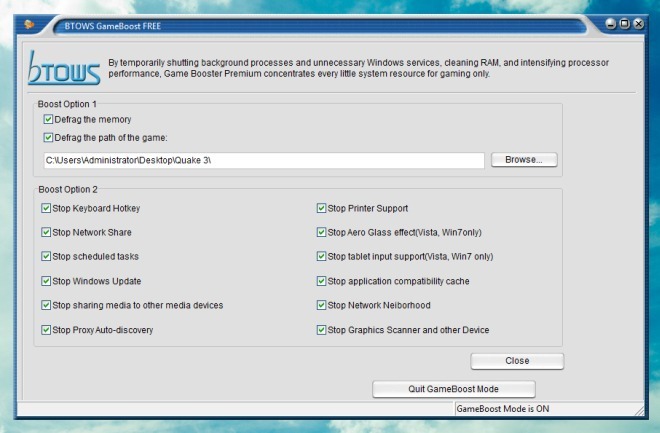 To revert back to the system settings anytime, click Quit GameBoost Mode. It must be noted that changing/exiting some of the aforementioned settings can have adverse effects, and can disrupt system and network tasks. Make sure that you only select tasks which may be unobtrusive for you. Toolwiz GameBoost works on Windows XP, Windows Vista and Windows 7.