Send to Kindle Sends Documents To Kindle From Windows Right-Click Context Menu
Being an eBook reader or a tablet user, chances are, you might have heard the name Kindle. Yup, we are talking about Amazon's Kindle Fire. One of the very popular eBook reader around these days, which is arguably the best in the business. Even though it includes a trimmed down version of Android, it still is quite robust. If memory serves you well, you might know that last year, we covered a Chrome extension for Kindle owners named Send to Kindle, which offers a quick way for pushing web content to Kindle for reading articles and news later on your device. A very handy extension perhaps, which even we liked a lot. Now, the developers have come up with a desktop application for Send to Kindle, which is nothing short of a surprise for us. This Windows application allows you to send personal documents to Kindle from your PC. The application mainly offers a shell extension, enabling you to send supported files to Kindle from the right-click context menu of Windows. It also integrates with some Windows applications and creates a virtual printer, allowing you to send documents to your Kindle directly from the Print menu of applications (files are sent in PDF format). We took the plunge to see whether it fares well with the Chrome extension.
The application fully supports Wifi and allows you to deliver your documents easily over the WiFi, or archive them in your Kindle Library to download later (note that you'd need a Kindle account for that). To send a document, just right click on the file and select Send to Kindle from the context menu.
Now the main application window will pop up. From the Send to Kindle window, select Wi-Fi (Free) from the Delivery options menu, and click Send to send the file. It will also let you know of the upload size of the file.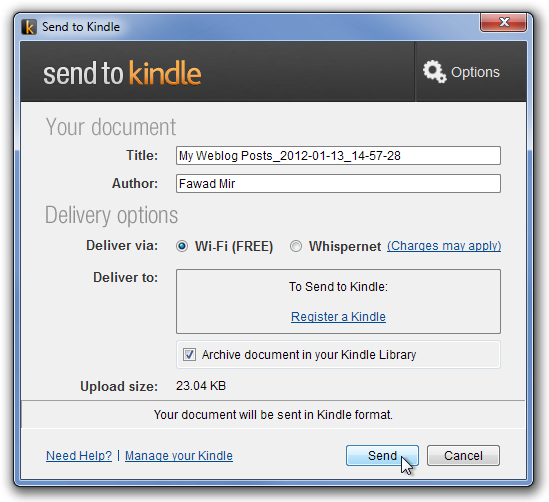 As stated earlier, Send to Kindle also creates a virtual printer, allowing you to send documents to Kindle from any application that supports printing. Its worth mentioning though that the documents are converted into PDF format before they are delivered to the device itself.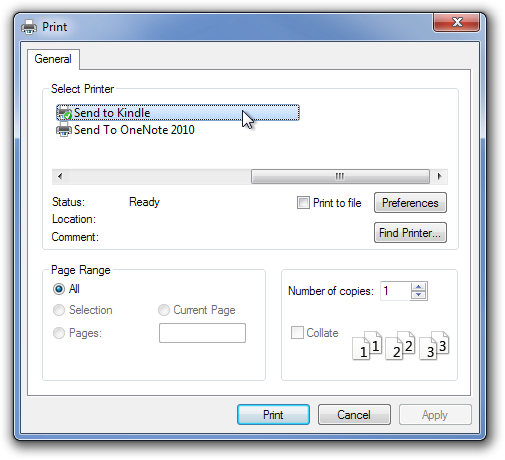 Send to Kindle is an impressive application for sure that totally provided what we were looking for. It works on Windows XP, Windows Vista and Windows 7. The application itself was tested on Windows 7 64-bit edition. You can download the application via the link provided below.