RemoteRebootX: Shutdown, Wake & Perform Other System Actions Remotely
There are a number of application (e.g., WakeMeOn LAN), which are meant to remotely wake up computers via command sent out through the Local Area Network (LAN). Being able to remotely wakeup, shutdown or reboot computers can allow easy management of data center servers, as well as other LAN computers that may be located all over the office. RemoteRebootX is a portable application that not only provides remote wake on LAN functionality, but also enables users to remotely reboot, shutdown, ping, retrieve the last boot time and MAC address, and obtain the list of services that are set to "Automatic" on remote computers.
Just launch RemoteRebootX and add host names via the Add Hosts (+) button. Once done, you can expand/collapse rows and remotely connect, ping, reboot, shutdown and wake LAN computers. Similarly, you can start/stop remotely pinging a system, obtain the last boot time or MAC address of computers, schedule tasks, import notes or MAC addresses and get C drive space information, (for a remote systems).
The same options can also be used from the top toolbar, which also provides the additional option to define colors for numerous actions.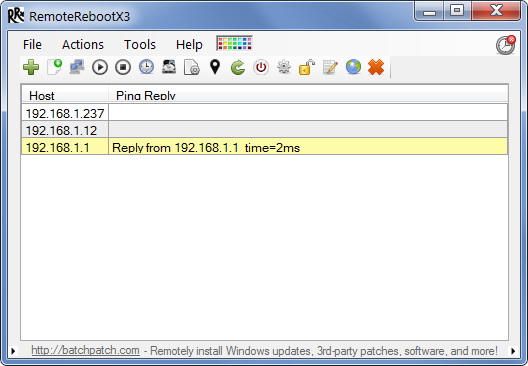 It must be noted that you will require entering the remote system credentials to initiate remote commands on restricted computers. This can be done by clicking the Set Logon Credentials (pad lock icon) option.
In order to obtain wake on LAN functionality, make sure that you have enabled the Wake On LAN option from your network adapter's properties, and that your network interface is capable of Wake On LAN functionality. RemoteRebootX works on Windows XP, Windows Vista, Windows 7, Windows Server 2003 and Windows Server 2008.