Find Out How You Reached Your Current Tab Through Screenshots [Chrome]
Chronic web surfers, a.k.a internet addicts, links are clicked on impulse and within minutes your browser window is littered with so many tabs that it isn't possible to make out the page titles any more. Whether surfing for recreation or for work, we keep opening links in new tabs and then forget how we got to a particular page. This can throw us off when we need to return to whichever page the link originated from or when we need to see which website proved to be a good resource. So…Where Were We? is a Chrome extension that lets you keep track of the previously viewed pages and provides you with a screen shot of the webpage that was used to reach the current one. The extension works on all such pages that are opened in new tabs. All you need to do is click the button in the address bar and a pop-up will display the entire webpage.
After you've installed the extension, you will notice a tiny button in the address bar. Users should note that this button does not appear on all webpages and is only active on pages which are opened in new tabs. You can then click this button to view the screenshot of the webpage that was used to get to your current one. The app only gives you a screenshot of the website that landed you on a particular page and you can at the least read the name of the site from its header.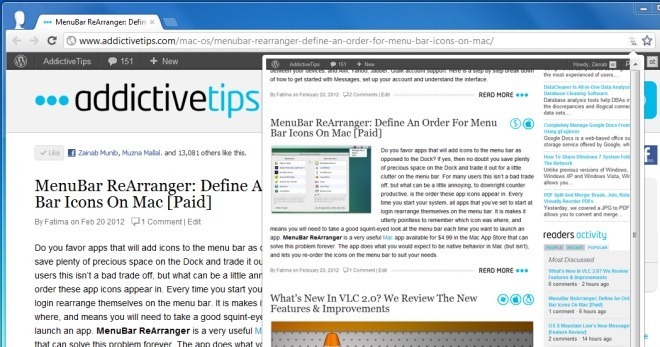 The shortcoming of So…Where Were We? Is that it does not actually take you to the page you came from. Since it captures a screenshot which definitely takes up more memory, it would have made sense to add this functionality. Sometimes, a website's name isn't enough and you really need to return to a particular page on the site and the screenshots can't really help you there.
A simple but limited way around this would be to read the content of a webpage as it appears in a screenshot and search Google for it. Hopefully, it will lead you to the page you came from. The concept of the extension is good nonetheless even though it does not take the users to the actual page. With a few additional features, the extension might just manage to gather a stronger user base. You can install the extension from the link below.
Install So…Where Were We? For Google Chrome