Fire Media Player Adds A Sidebar For Creating YouTube Playlists & Controlling Playback In Firefox
Fire Media Player is a media playback and management tool that allows you to play YouTube videos and playlists in a compact sidebar. The sidebar can easily be toggled on and off with the click of a button, and music playback can be controlled from the toolbar or from within the right-click context menu. With it, you can create and edit playlists, search for music and share it with your friends on popular social networks. Additionally, music can be added directly to playlists from YouTube using the right-click context menu. Fire Media Player also lets you see thumbnails of next/previous videos right within the sidebar.
After you've installed the add-on, it will add a sidebar and a toolbar to Firefox's interface. From here, you will be able to create new playlists, add music and save playlists. You will also be able to watch videos right in the sidebar and share them with your buddies on popular social networks, like Facebook and Twitter. You can click the YouTube play button to play the loaded video, and if you want to start a selected playlist, then use the control bar's play button below the playlist dropdown selector. Once a playlist is being played, you will be able to pause, skip, forward and share music.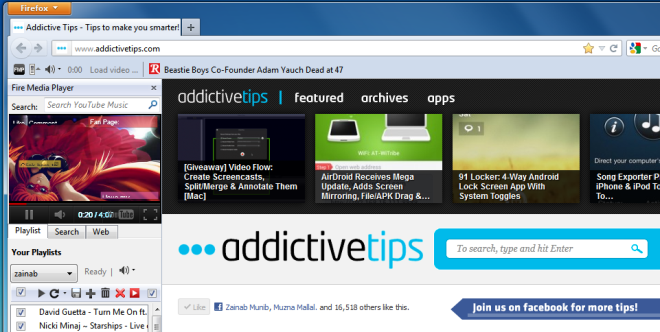 In order to create a new playlist, simply click the (+) button. When watching YouTube videos, you can use the right-click context menu to add a particular video to a selected playlist. Moreover, the context menu allows you to control music playback.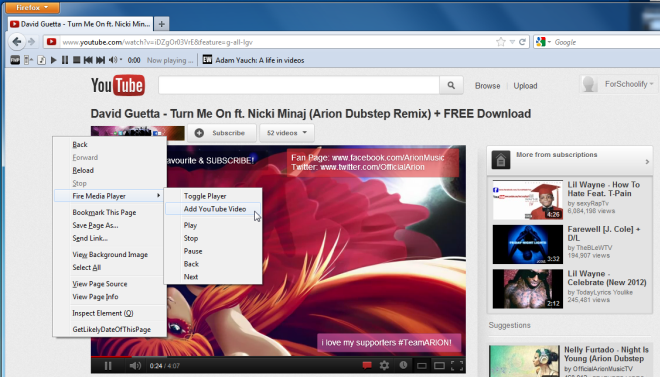 When the Add YouTube Video option is clicked, a pop-up is displayed allowing you to select a playlist from a drop-down menu. Once done, click OK and you're good to go!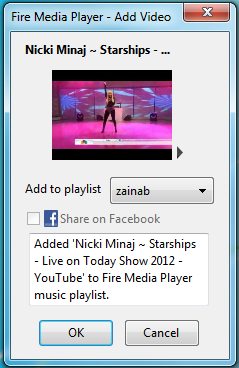 The add-on can be useful for people who like to watch or listen to YouTube videos while they work online, but hate switching tabs. However, during our testing, the add-on didn't allow us to save local playlists or share them on social networks.
Install Fire Media Player Add-On For Firefox