Firefox Account Manager Add-on
One of the main reasons that make Firefox a top-pick amongst great web browsers is its add-ons. They not only enrich the user experience but also dramatically enhance and improve the features that the browser offers. Account management is one of the key areas of focus for any user, since many websites require you to sign-in or sign-up in order to use their services.
We have have previously recommended the famous add-on, LastPass, as the best password manager. It seems now that Mozilla is trying to bring-in their own version of the add-on in the form of Account Manager, but with a different flavor.
The Account Manager as of yet is a beta test service, primarily because it uses an entirely new standard that has so far been implemented by only a few websites (Facebook, Twitter, Google etc, to name some). Hence, the usability element is rather break at the moment. What it does is letting a user sign in to a website directly from the toolbar instead of needing to visit the page itself. Mozilla is calling it their 'Connect' feature.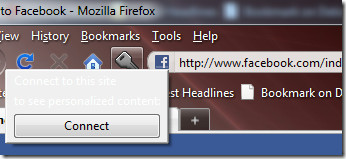 In my opinion, the main disadvantage of the account manager, apart from limited support, is that it can utilize only the credentials stored within the browser itself. This poses a two-fold problem. First, your passwords/connections are not available at all your workplaces, and second, anyone with access to your browser can misuse your accounts. Mozilla may want to look forward to getting around this if they want to compete the likes of LastPass.
Account Manager can be installed as an add-on while in beta.
Install Account Manager (Firefox Add-on)