FlashControl: Stop Sites From Auto Playing Flash Content [Chrome]
Sometimes when we visit websites, Flash videos are played automatically and this behavior can be really annoying not to mention the strain it puts on bandwidth. If you want to prevent this from happening to you then Flash Control, a Google Chrome extension, works perfectly and prevents the Adobe Flash Player from automatically spawning instances of itself, resulting in improved security, performance and overall functionality of your browser. This extension allows you to filter content by using blacklisting and white listing methods.
This extension selectively blocks flash content and the tab switching mode delays loading Flash. Furthermore, when your computer is inactivate for a certain amount of time, the Flash player is blocked automatically. A toolbar is placed on top of your video, the first button on the toolbar allows you to enable/disable the video, whereas the second button allows you to pause the flash content from loading. The very last button can simply be used to white list a website.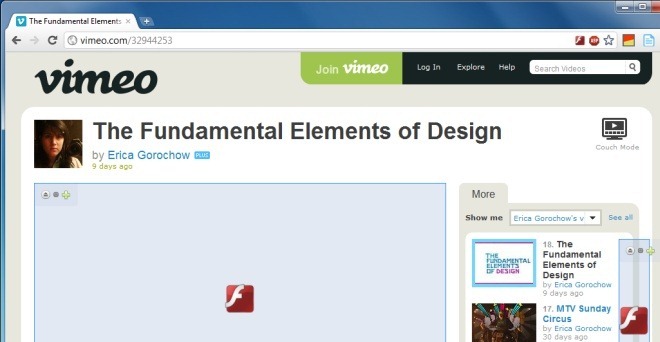 After the extension is installed, a FlashControl button is added right in your address bar. When clicked, a pop-up is displayed with different options. Using this pop-up you can block Flash, block a session, whitelist a website, access the resource panel and disable FlashControl.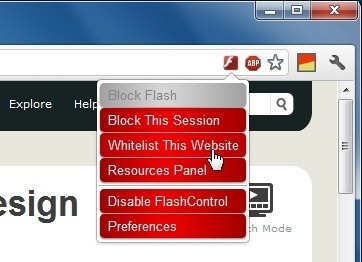 The FlashControl settings consist of multiple categories, these are, General Settings, Power Management, Appearance, Whitelist and Blacklist. You can enable FlashControl and show address bar menu, from the General settings. Furthermore, it turns off Flash when the computer is inactive for a certain number of minutes or hours, you can simply enter the number of minutes under the Power Management settings. The Appearance settings allow you to set the toolbar position using a drop-down menu. You can also enable toolbar dragging, clickable panel and so on.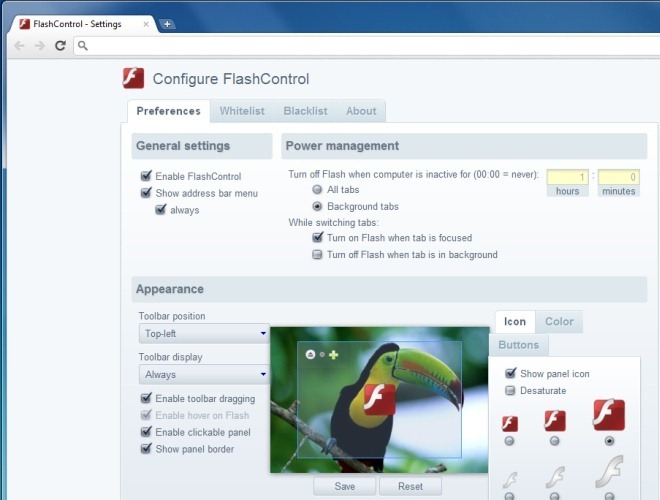 This is quite a handy add-on and is a must have for people who want to enhance their web browsing experience. Visit the link given below to install FlashControl.
Intsall FlashControl Extension For Google Chrome