Sync And Read Kindle E-Books On PC With Kindle For PC
Kindle for PC is a free application by Amazon for reading Kindle e-books on your PC, without requiring a Kindle device. For users who already have a Kindle device or use Kindle for iPhone, Amazon's Whispersync functionality automatically synchronizes your last page read, so that you can continue reading from where you left off. Kindle for PC also makes use of Whispersync and automatically keeps your bookmarks and last pages in sync via your Amazon account. Using Kindle for PC you can purchase, download and read books from the Kindle Store, read the beginning of a book before buying it, access library of previously purchased Kindle e-books (via your Amazon account), read books in full color, change book font size, add and automatically synchronize bookmarks and last page reads, as well as zoom in and out of text with your fingers (Windows 7 users only).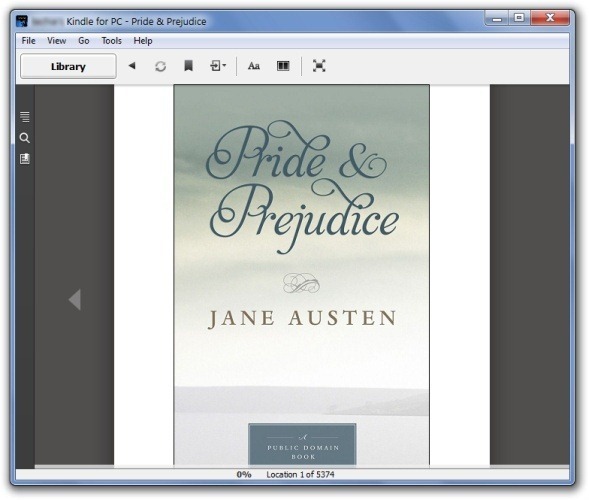 To start using Kindle for PC, you will require logging in with an Amazon account. If you do not have an account, then simply sign up for one using the first run dialog box. Once logged in, you are displayed with your library, which comes with some default e-books.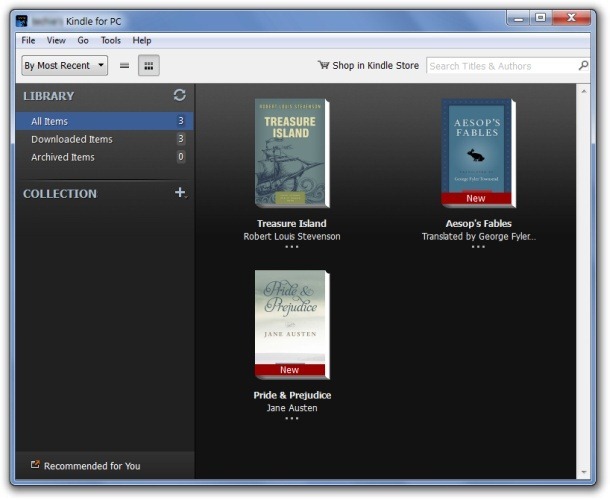 When an e-book is opened, you are provided with some mouse instructions for flipping pages. The options at the top of the interface allow adding bookmarks, moving between pages, (cover, table of contents, beginning and a specific part of the book), changing the font style, splitting the page in multiple columns and enabling full screen mode.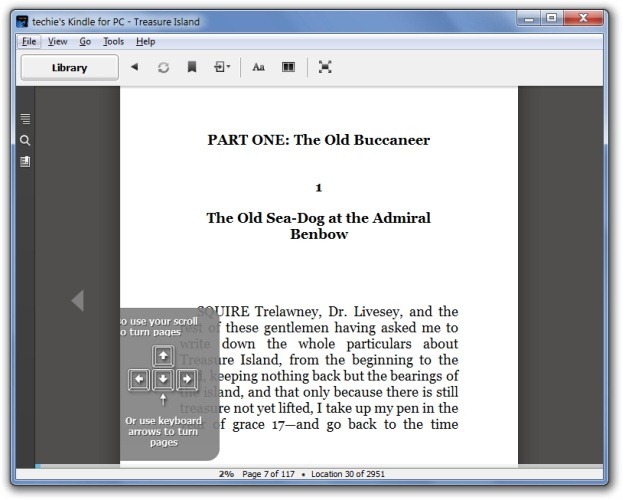 You can import and add book collections to easily organize e-books.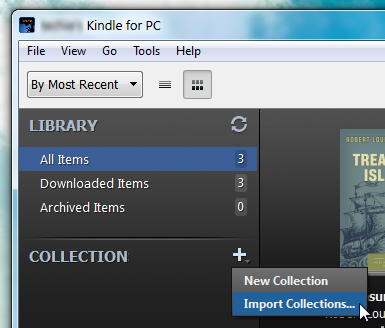 As mentioned earlier, Whispersync is automatically enabled in Kindle for PC, however, you can also manually start synchronization by going to Tools –> "Sync and Check for New Items" or by using the F5 hotkey.
It must be noted that if you attempt to download this application from the Amazon website, then you might not be able to do so, as downloading it is restricted for certain locations. However, you can avoid this restriction by downloading Kindle for PC from the mirror link given below. Kindle for PC works on Windows XP, Windows Vista and Windows 7.
Download Kindle for PC [Homepage]
Download Kindle for PC [Mirror Download Link]