GeoGreeting – Send Greeting Message With Letters Made From Aerial View Of Buildings
geoGreeting is an interesting website that lets you send any message with letters made up from aerial view of buildings. Most buildings that you will find are located in the US, since the author has focused on one country. Finding a building that represent a letter when seen from an aerial view with Google Earth is not an easy task. A small community of users now help find the buildings for this website.

To send a greeting, just type the message and you will be able to see where every building for every letter you type is located on the Earth. The full preview of the message can be seen at the bottom of the website.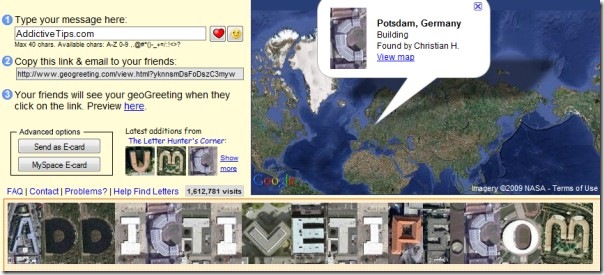 You can also type special characters such as @,#,?, etc. To send a message to a friend, simply copy the link and share via email. To check how your friend will see the message, click Preview here link. Enjoy!