Gmail Attachments To Docs: Save Files Directly To Google Docs [Chrome]
When you receive an attachment in Gmail you have the option to either download it or view it in your browser/Google Docs (where the format is supported). The view option is convenient if you would rather read a document and see if it's important before saving it to your hard drive but lets say you don't have time to view a document and don't want to save it to your hard drive either. The simple answer would be to get back to that email later when you have time, alternatively, you can save it to Google Docs so you don't have to skim through your email and find it again. Gmail Attachments To Docs is a Chrome extension that lets you save attachments directly to Google Docs without viewing or downloading them. Attachments are sent directly from the Gmail interface.
Once installed, refresh your Gmail tab, an option to Save to Docs will appear between the View and Download options next to each attached file. Click the option and the file will automatically save to Google Docs. Documents are saved one by one and cannot be saved in bulk.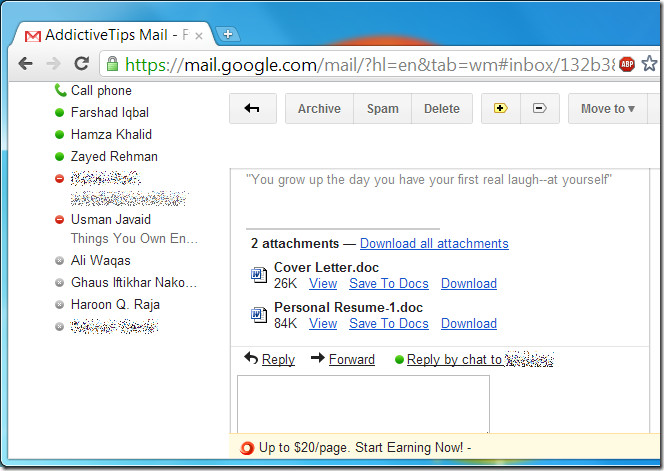 A new tab will open telling you your file has been saved to Google Docs. The file is saved with the same name as it came with in the attachment and the name of the sender is not appended to the file name.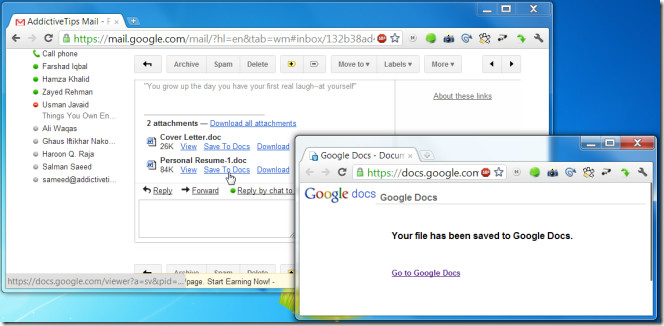 The extension is particularly useful if you want to share multiple attachments with someone but don't have time to forward each email (and consequentially clutter someone's inbox). You can save different files to Google Docs and share them in bulk with anyone you want.
Install Gmail Attachments To Docs For Chrome