Google Chrome Proxy Server Settings
Since we have reviewed enough Google Chrome extensions for today, it is time we talk about Chrome's proxy settings. Did you know that Google Chrome uses Internet Explorer's proxy server settings? It might come as a surprise to you but it is true.
Head over to Options, select Under the Hood tab, and now click Change Proxy Settings button. Don't be surprised when Internet Properties dialog window is displayed.
If you want to disable or keep a different proxy server setting for Google Chrome then there are few command line switches you need to learn.
Disable Proxy Server
To disable the proxy server, right-click the Google Chrome shortcut and select Properties. Now add the following command line switch at the end of the Target path.

This will tell Chrome not to use any proxy setting and will also override any other proxy settings provided. See screenshot below for further clarification.
Assign Proxy Server
Following the above method will disable the proxy settings, but what if you want to assign a different proxy setting to Google Chrome than that of Internet Explorer? Simply add the IP address and port after the Proxy Server switch.

Where 0.0.0.0 is any IP address and 8080 is the port. Make sure it is enclosed in "".
See screenshot below for further clarification.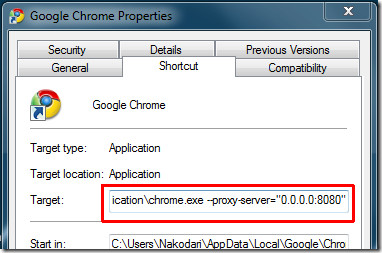 Proxy Exceptions (Bypass list)
What if you want to set exceptions? It is a nice question which sounds tough to implement but is quite easy. You simply need to enter another command line switch at the end of the above command line switch along with the hosts that you want to exclude.
The complete target becomes:

By typing the above command line, all hosts will be proxied through "0.0.0.0" on port 8080 except those pointing to google.com, those pointing to addictivetips.com, and those pointing to local host on port 8080.
Hopefully, these command line switches will do the job. If you are facing any problems, do let us know in the comments.