Google Wave Notifier Extension For Firefox
Google Wave is a new service from Google that is in private beta, which means only a limited number of people are able to test it. If you want to give it a try, you will need an invite from other Google Wave members.
Google Wave Add-on for Firefox is an extension that will add Google Wave icon in the status bar of your browser. You just need to login using your Google Wave credentials and from then on you will be notified of all incoming waves.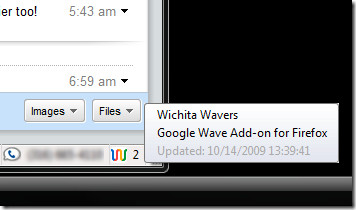 Screenshot above is taken from developer's page
It will show the number of unread messages(waves) in the status bar, hovering over them will show you the preview. To install it you need to download and open the .xpi file with Firefox.
Sadly there is no standalone notifier available yet that can work straight from the system tray, but we can expect one to be developed when Google Wave opens up to the public.
Download Google Wave Add-On For Firefox
It currently works with Firefox 3.5 and later versions. It has been tested on Mac, Ubuntu, and Windows so there shouldn't be a problem running it. Enjoy!