How To Check If Some Intruder Is Accessing Your Gmail Account
If you are suspecting that some hacker or an intruder is accessing your Gmail account without your knowledge then Gmail has a feature called Last Account Activity that will provide you with information about your recent account activity. The information includes the last time that the account was accessed, the IP address from which the access was made, as well as the date and time, it enables user to check and verify that the login is indeed valid and legitimate, and whether there is another person using the Gmail account without your consent and knowledge.
To access the Last Account Activity history, click on the Details link at the end of the Last account activity line at the bottom of any Gmail page as shown in the screenshot below. It will open a new window showing the recent sign-in records from last few hours onwards.

Once you open the Details link, you will see Activity information window which offers immense information, including user's current IP address, so that user can know easily which session is opened by him, and if there is another login session to Gmail that does not occur on his or her computer.

The first line in the recent activity box, indicates all open sessions, along with IP address and Access type — which refers to how email was retrieved, for example, through iGoogle, POP3 or a mobile phone.

All other enlisted rows, shows the login information which includes access type whether browser or iGoogle, the IP address and date/time. With this information you quickly verify that all the Gmail activity was indeed yours.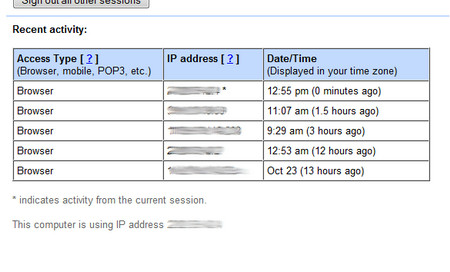 If you suspect the intrusion or violation into your Gmail has occurred, then sign out and log out all Gmail access session that is not on your current computer by clicking on Sign out all other sessions button.

You should then immediately change your Gmail account password by going to Google Account Settings, and then click on Change Password.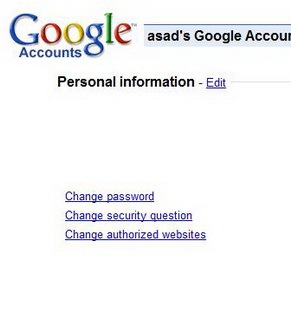 The Last Account Activity feature can come handy anytime, and is now the most important feature of Gmail and also a reason why you should sign-up for a Gmail account. 😉