How To Contact The Owner Of Any Website
Suppose you visit any website and want to contact the webmaster, but cannot find any contact information on the website, what will you do? Instead of searching the who.is information and going further deep to track down the owner, you can simply use ContactThatOwner.
It is a free online service that lets you find the owner of any website and allows you to contact him/her instantly. This is how it works, you enter the website name, it will query the domain provider for a contact email. Once the email has been received, you will be shown a simple-to-use contact form from where you can send the message to the webmaster directly.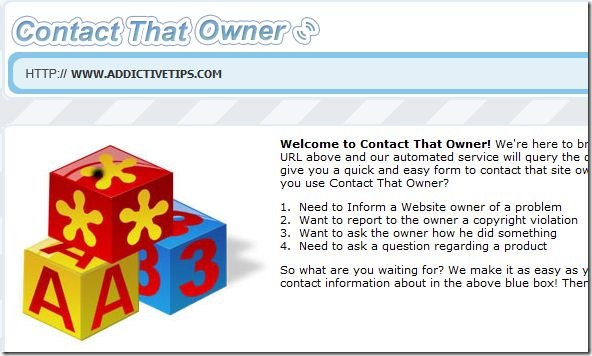 If the domain has been protected by who.is guard, then you won't be able to see the original email address of the owner, but you can still send the message. The results are surprisingly quite accurate.
Features:
Simple and Fast
No Registration Required
Send Message Directly Using Contact Form
100% Free
Enjoy!