How To Send Files To Your Friend's Mobile Phone And Your Own Cell Phone Using Beam-it-up-Scotty.com
Beam-It-Up-Scotty.com is a site that allows users to send media content to your cell phone(or your friend's cell phone) from your computer. In three easy steps you can download your favorite media content to your mobile phone or send files to your friend's mobile phone. First you upload the file, then you compress it. Lastly you enter the cell phone information and then you are done. Most modern cell phones that support the 3gp format and the mp3 playback are also supported. You can compress the file after it has been uploaded to the system, which comes useful. A compressed file reduces downloading time and transfer costs.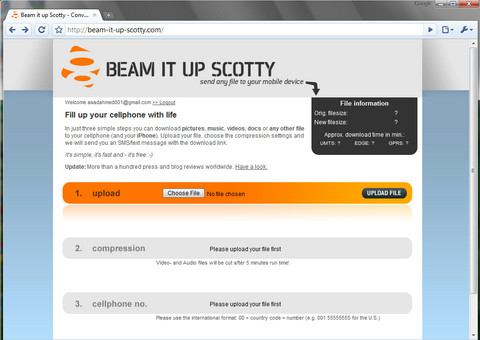 One of the best features of using this service is that there's no complicated setup process. It's very straightforward and easy to use. Within a few short minutes, a file will be sent directly to your device.

To get started, upload your desired file to the Beam It Up Scotty homepage, video and audio files will be limited to 5 minutes of playing time. To upload the file, click onto the upload bar, and navigate to the location of the file.

Now Choose the compression type from the second bar on the main page.

Enter your mobile phone number (in international format) and la-la! Seconds later you'll receive a download link directly to your handset. For the very first time, it will require an email address, to send a verification link to, type in your desired email address and within seconds you'll receive your activation link.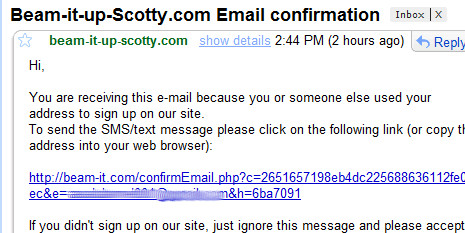 Beam It Up Scotty is a useful tool for accessing your documents on the go. You can use your mobile device to download an important file without the need of a notebook. The service is free to use, but you are still responsible for any charges associated with your cell phone carrier.
The only limitation is that audio and video files will be capped at 5 minutes and you are limited to 10 uploads per day. Files sit around on the server for a month, so you can easily forward the download link to as many friends as you'd like to.
Give it a go and be prepared to wonder 'why didn't I think of that?'