Kwout: Capture Parts Of Websites & Share On Social Networks [Chrome]
When we come across interesting images or other interesting content on website, we often share links with our friends in one way or another, but with Kwout, you can share stuff more efficiently by quoting specific parts of a webpage as images. This useful Chrome extension, allows you to select parts of webpages as an image with an image map. Once you've installed the extension, all you have to do is, place the selector box over the are you want to share ad upload it to post it on popular social networks. Users should note that all hyperlinks are still active even after the part is quoted. The images can be shared on popular social networking sites, such as Facebook, Twitter, MySpace, Flickr and more.
After installing the extension, click the kwout button in the toolbar and a image map will instantly appear over the webpage. You can move the image map around or drag it to change its size. The image map comes with two options displayed at the bottom right corner of the map, these are Cancel and Upload. When you're sure about the area you want to select, click Upload and the selected area will be cut out as a screenshot.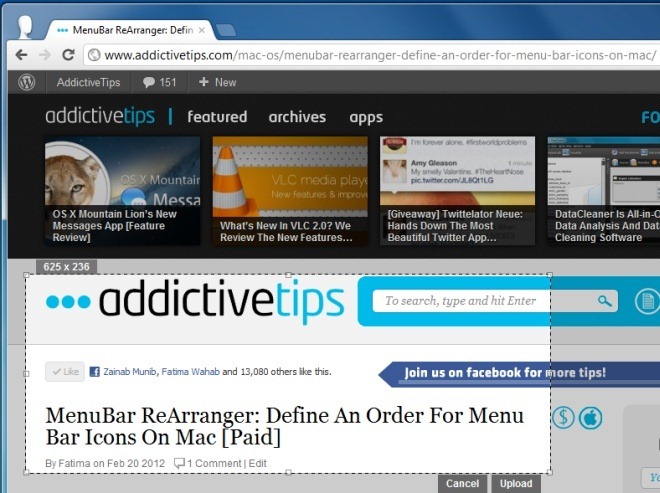 The image is then displayed in a new tab with multiple options. The options are displayed to the left of the page, you can post it directly to Twitter, Facebook, Blogger, Tumblr, Gmail and many more. Moreover, Kwout lets you change the size of the image and add border or shadows to the image. It also connects with both Pixlr and Any Canvas to send your image directly to these services for editing. The interface supports ads and isn't the best there is. The ads, while probably necessary to keep the service going, can be positioned better and the interface, overall, could stand a lot of improvement. It's very messy and confusing.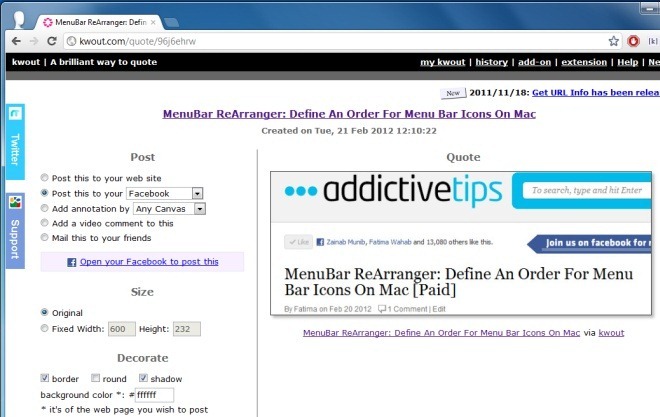 The good thing about the extension is that it adds an image map to the part of the web page you clip so that clicking it will take you to the original website. The image map can be removed if you don't need it. The extension also adds the dimensions of your clipped image and that can be helpful as well when you're sharing it with someone.
Ignoring the cluttered interface, Kwout is a brilliant way to quote a part of a webpage as an image. The extension can be installed from the link below.
Install Kwout For Google Chrome