Lazy Meter Is To-Do List Manager & Productivity Tracker To Stay Focused
Do you consider yourself profoundly lazy? Or do you often ask yourself at the end of the day 'What did I do with my time?' If you're the former, get your act together, if the later, there is hope for you yet. Lazy Meter is a to-do list manager that helps you realize your productivity. As opposed to a long list of things to do, it organizes tasks as active, paused or not started and does not restrict you to deadlines. It gives you the flexibility to reorder your tasks and change their priority at any time and at the end of the day gives you a productivity graph of which tasks you've accomplished.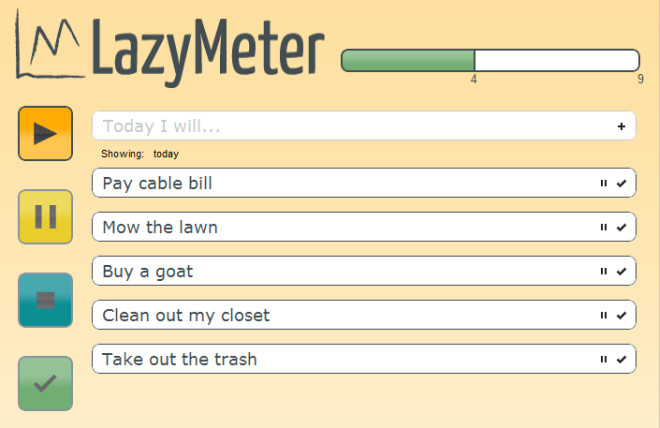 Sign up to use the service and start adding things to do.  All tasks added are as active, to pause a task, click the pause icon next it. Once a task is done, click the check sign in front of it. To view paused tasks, click on the large yellow pause button on the left of the tasks' list.
Although tasks aren't set with a due date, you can set a due date for a task once it's been paused. Click the pause button to see the paused tasks, each task will be accompanied by the date it was added on, clicking the date will open a calendar allowing  you to choose a date for the task and enter a note with it.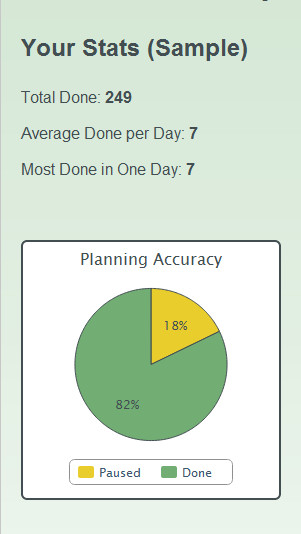 The best part of the service though might just be the graphical representation of what you did all day. If anything, a pie chart can make you realize how well you spent your time. Click on the check sign button to see your progress.