liveshare: Photo Sharing App That Lets Anyone Add Images To Same Album [Web]
Imagine a party where you and some of your friends took photos, and now want to share them for all. Normally, one person would upload those photos to their Facebook profile, or, to collect them all in one place, you might resort to an online file sharing service. There are many services out there that allow you to share photos with friends, but liveshare , a web application, offers users with something unique. It allows you to share photos in a collaborative, real time manner. All you have to do is kick off a photo stream, add photos from your computer, invite friends so they can add their photos to the same album, and then watch the album grow. In addition to that, you can either set the photos to be public or private. liveshare is an amazing way to capture memories and photos from the same event that you and your friends attend. It allows real time sync, is fast, and every member can add photos.
To start off, you can either Connect with Facebook, or Sign up for the service. Sharing photos with your friends and creating albums is quick and easy. Simply upload photos from your computer or drag & drop photos from the system.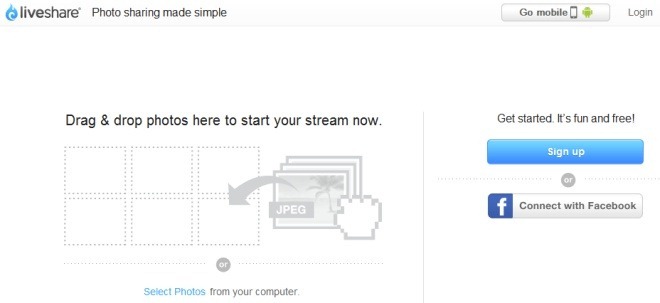 The photos will instantly be uploaded, you will notice a Uploading option at the bottom right corner. Name your album and make it either private or public. Once done, you can also share it on Facebook or Twitter.

Furthermore, the service allows members to like and comment on photos. Click on individual photos to like, comment or read comments made by other users.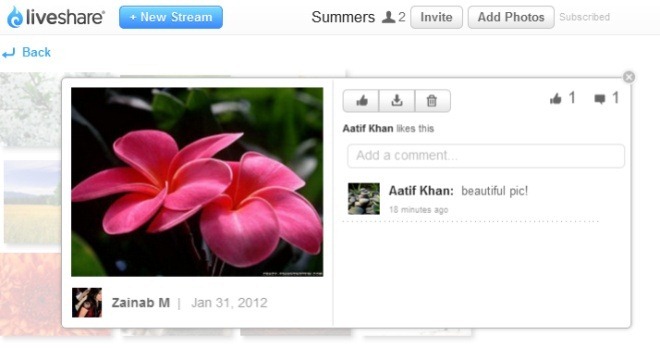 With liveshare, everyone's photos from the same event can all be in one place. You can even share entire albums on Facebook or Twitter, but unfortunately, we were unable to locate an option for that during testing. liveshare also has mobile apps for iOS and Android, which allow you to share special moments any time and anywhere. This web app definitely deserves your attention, so visit the link and give it a shot.