Make Scrolling Smooth In Google Chrome Browser
In any browser, the default scrolling occurs in strides. Usually, one movement on the mouse wheel, or one key press on the keyboard will jump down three lines. While it's nothing of an issue mostly, it can be irksome while reading text, like a novel, or an article on Wikipedia.
SmoothScroll is a Google Chrome extension that allows smooth, Picasa-like scrolling in the browser as well. The extension supports both mouse and keyboard scroll methods (PgUp, PgDown, arrow keys).
Update: SmoothScroll for Google Chrome has been discontinued. However, you can use Teleprompter to adjust the scroll speed of the mouse.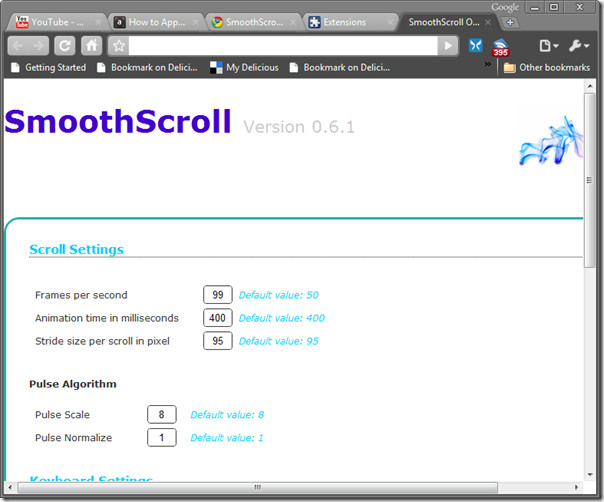 The extension will not show any icon visibly, but the smooth scroll will become active once it is installed. From the extension's settings, you can control the frames jumped per movement, stride size, frame per second, etc. The effect is evident immediately, and it does add some nicety to overall browsing experience. However, I still don't see much point in this extension unless on-screen reading really bothers you.