Pandora Desktop Notification: Get Song Change Notifications [Chrome]
Online radio stations and services are a great way of listening to music and discovering new artists. Pandora is one of the most popular online radio services with a whole bunch of features that makes it convenient to listen, share and buy songs. Of the many good things about the service, one is that all you need is a web browser to listen to songs. Pandora Desktop Notification is a simple, single feature extension for Chrome that gives you a desktop notification whenever a new song starts playing.
Once installed, the extension works in the background and needs to access the information you share on Pandora. Regardless of whether you're signed in or not, the extension will continue to work. If you are on the free plan, the extension will ignore the ads played between songs and notify you only of the changing music tracks.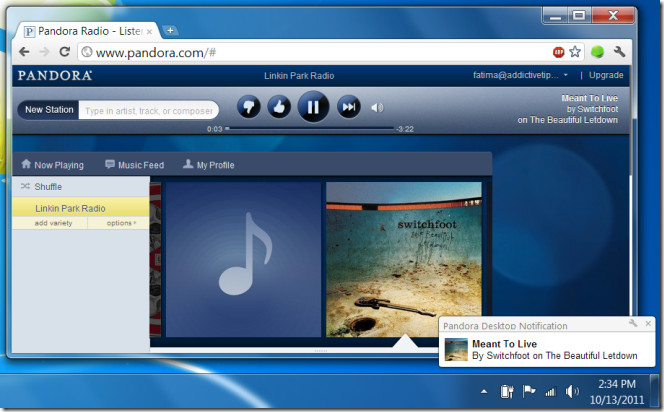 The notification includes song, artist and album names, as well as album art. It stays on your desktop for a few seconds before disappearing. If you're wondering why on earth you'd want a notification for whenever a new song starts playing, one good reason is to check out which artist is playing without visiting the tab. You can later check out more songs for that particular artist, see if there is already a station for them for you to listen to on Pandora, or search for videos on YouTube.
Install Pandora Desktop Notification Extension for Chrome
Update: This extension is no longer available in the Google Web Store.