Play iTunes Music Library Online With Moof
Moof offers music buffs with an online application to access, search and manage their music collection. Previously we have come across mSpot (that allows user to upload music file to the online server for accessing them remotely). Moof is different because it lets you import iTunes library and then populate the list with all matching songs found in your music library.
YouTube is the main data source of music files, which comes very useful to search a wide range of music genres but one major downside is that you can come across same music files having different titles, so you have to check multiple search results before adding the right one into your library. Coming back to music management, it offers playlist support, letting you categorize music of different genres/artists in multiple groups. The distinctive part is iTunes library import feature, just click Upload (present at the top of window ) to import your iTunes music library (XML) list.
Usage is fairly simple, after registering on the main page, it will lead you to the main music management window. You will see basic playback navigation controls and a music manager with playlist residing at the left sidebar. Whilst inviting your friends to share music collection, you can also make your profile open to public.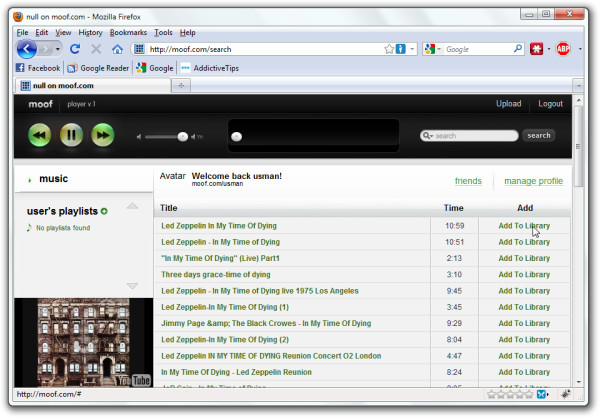 Overall, the application is quite helpful in managing your music collection. Besides some incompatibilities we found in the interface, the application is worth a try.