Recall Monkey – Search Firefox History With Date, Time & Site Filters
How much use does the average person make of their browsing history? People prefer to delete it either because they're trying to hide that they've played Farmville or because they find it utterly useless. Mozilla labs, however, have found a way to let users utilize browsing history. Prospector – Recall Monkey for Firefox is an extension from Mozilla Labs that turns browsing history into something useful. It lets you search your history based on time and keywords (nothing new) but it also lets you define preferential websites or sites to ignore when showing the results (very new). The interface is of course much better than what the normal history view has to offer making it easier to find that useful site from last year whose name you can't remember.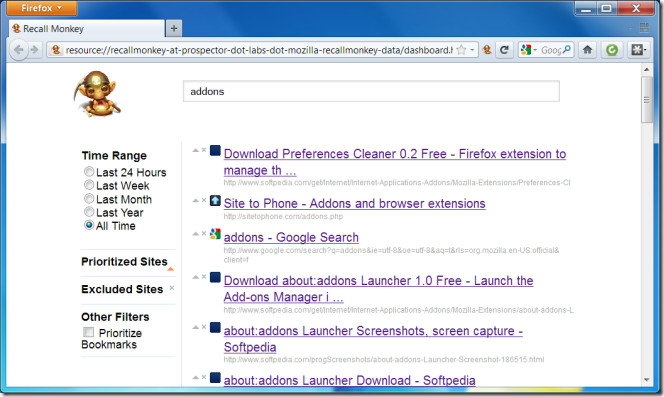 The extension adds an orb eyed monkey with a pickaxe icon to the add-on bar which you can customize and move next to the URL bar. You can enter a keyword in the URL bar and click the icon to run the same search in your history or you can click the icon to open it and enter keywords in the search bar.
Each search result is accompanied by a small arrow and a cross. Clicking on the arrow indicates your preference for that site and results from it are shown on priority. Clicking on the cross indicates that you don't want to view results from that site. You can choose to prioritize the pages you've bookmarked. The add-on combines bookmark and history results in one. Prioritized and excluded sites are reset each time the extension is launched.
Install Prospector – Recall Monkey For Firefox