Remove Quiz And Application Messages From Facebook Homepage
Facebook is a social network to connect with friends, family, and co-workers. It was not build to connect with hundreds of junk 3rd party applications. My main homepage feed, at the moment of writing, is half full of useless application messages which has made it quite difficult to check friends' real activities. To make the matters worse, there is no way in facebook to permanently remove application messages from appearing in the main feed.

Facebook Purity is a GreaseMonkey script for Firefox that automatically removes all junk 3rd party quizzes and application messages from the main feed. It would however keep all messages from original facebook apps, such as status updates, wall posts, links, notes, photos, etc behind.
Once this script is installed, visit facebook and you will find a small notification on the right-sidebar, just above the Requests section. This notification shows the number of messages by 3rd party applications that have been blocked. Click Show to view the application messages in the feed, to remove them again click Hide.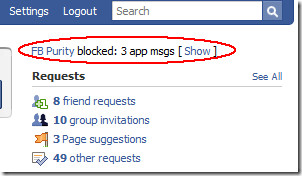 Personally, this script has saved me a lot of time and headache by making the feed less cluttered. If you are looking for more such scripts, have a look here. Enjoy!