Save PDF & Text Attachments In Gmail Directly To Google Docs [Chrome]
If you regularly work with PDF documents and save them to Google Docs to read them later, then Show PDF In GViewer, a Chrome extension, can be quite a useful tool for you. This simple extension lets you directly upload PDF attachments in Gmail to Google Docs. After installation, a tiny button is added right next to the View option in emails with PDF or text attachments. All you have to do, is click this button, and you will instantly be able to view or save the document in Google Docs.
Once installed, a small button is added between the View and Download options. Click this button and the file will automatically open in Google Docs viewer.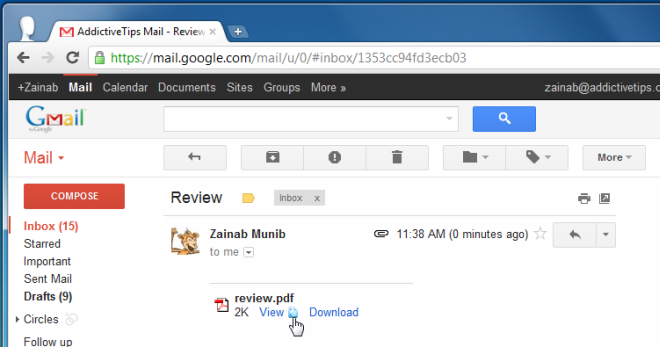 Google Docs will open in a new tab, displaying your PDF document. You will find two options at the top the page, Save in Google Docs and Download Original. When you click the Save in Google Docs button, the file is instantly saved, and a notification appears at the top of the page.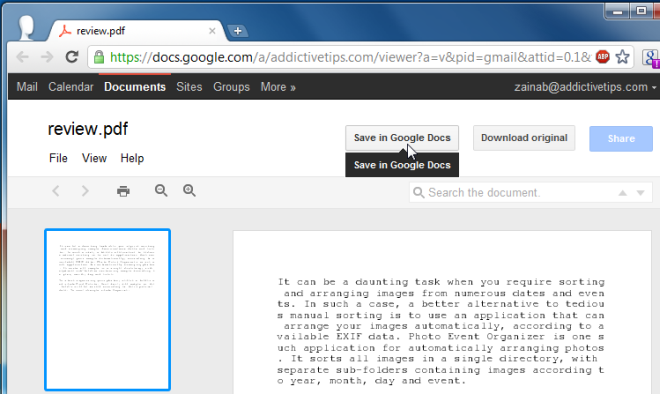 The extension is useful since it serves two purposes; it allows you to view a PDF directly in Google Docs instead of in your browser whereby you don't have to upload it separately and, while it is rare, PDFs can be infected too so you stay protected when the file is not downloaded to your system. It's also useful if you don't like viewing PDFs in Chrome which can start to drag if your file is large or just doesn't preview any pages until the file has loaded completely.
The extension can be improved by adding a button to save a file directly to Google Docs. Currently you have to first open the file and then save it to Google Docs. While you might not want to save all files, for the ones that you do decide to save, an additional button can be accommodated.
Previously we covered a similar extension, called Gmail Attachments To Docs, which lets you save all types of attachments to Google Docs. This extension comes with the same functionality, but only supports PDF and Text documents. With it, you no longer have to go through the hassle of first downloading documents and then uploading them to Google Docs. Install the extension from the link below, and save PDF files to Google Docs with only a click or two.
Install Show PDF In GViewer For Chrome