Scrolldit: Browse Reddit With A Visually Appealing Metro UI [Web]
Reddit is a great site that helps you find new content and a lot of funny cat pictures, but unfortunately, it does not have a very appealing interface. In all fairness, not only is it rather basic, but can be quite boring at times. Scrolldit is a web app that completely changes Reddit, and provides you with a Metro-type interface to scroll through content on Reddit. The interface is radically different, with no menus or other elements, but just the content itself. Most people don't read everything displayed on Reddit, therefore, Scrolldit is great as it displays lots of images and even videos that allow easy and quick consumption of media.
Reddit has a list of posts displayed on a boring white background. It displays five basic options at the top of the page, what's hot, new, controversial, top and saved. Furthermore, you can also browse posts by different subreddits such as , Pics, Worldnews, Politics, Gaming, Funny and so on.
Scrolldit automatically lets you view what an article is about, without having to read all the content. It displays content with a metro user interface, allowing you to scroll Reddit quickly and efficiently. When clicked on an item, it opens the item at the source. Furthermore, you can also up vote or down vote directly from the Scrolldit page. There is a checkbox that can be used to include or exclude NSFW results.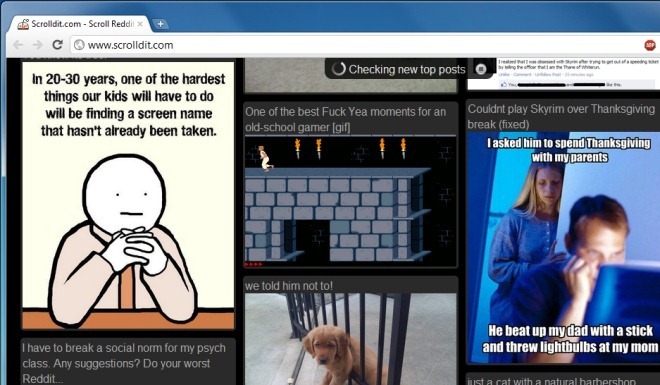 If you position your mouse over an item, a small button appears in the bottom right for upvoting or downvoting it. While the buttons appear to work, it is unclear how you can upvote since there is no way to sign in to Reddit using this site.
The website keeps track of the current ranking of items and gives you a notification at the top of the page when there is anything new. You can opt to see the new items and this will cause the tiles on the page to rearrange (maybe even disappear) to reflect the current ranking. Ads from both the service and Reddit appear as tiles. The service seems slightly buggy; the tiles occasionally jump to another position when you're scrolling.
This app is quite handy, and comes with a slick interface that allows you to easily scroll through Reddit. Scrolldit helps you stay up to date, especially when you're feeling lazy. Visit the link below and enjoy scrolling Reddit with Scrolldit.