Select/Highlight Words To View Definitions & Perform Search In Chrome
Wouldn't it be great if we could search and lookup definitions of difficult words without navigating away from a page we are currently on? Inline Search & Lookup, a Chrome extension, works perfectly and allows you to perform searches or lookups without leaving the page. Once you've installed the extension, all you have to do is simply hold Alt (configurable) and double click a word. As you do this, a small inline box will pop up with the results of your search or lookup. Moreover, the search engine from where the definitions are retrieved can be changed. The extension works on almost any website, and allows you to easily specify your own sources. You can also specify default scrolling actions for each source, so when you perform a search, the pop-up will automatically scroll to the appropriate section of the page.
After you've installed the extension, simply press the Alt key (the key can be changed) and highlight a word to view the inline search and lookup pop-up. By default, the definitions are retrieved from InfoPlease Dictionary, but the search engine or dictionary can easily be changed from the Options. Also, the pop-up can easily be dragged and resized by clicking the arrow at the bottom right of the pop-up.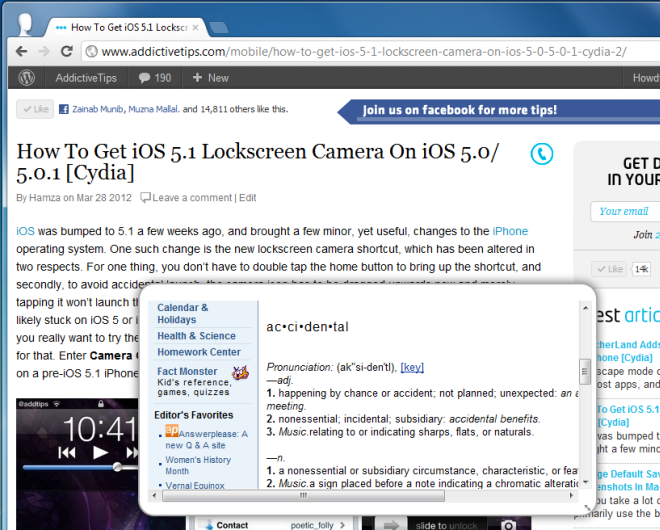 Inline Search & Lookup Options allow you to select a Dictionary or Search Engine, shortcut key for the Mouse lookup modifier from the drop-down menus, enable Hide popup with ESc and more. You may change the pop-up width and height, and enable the Remember size option.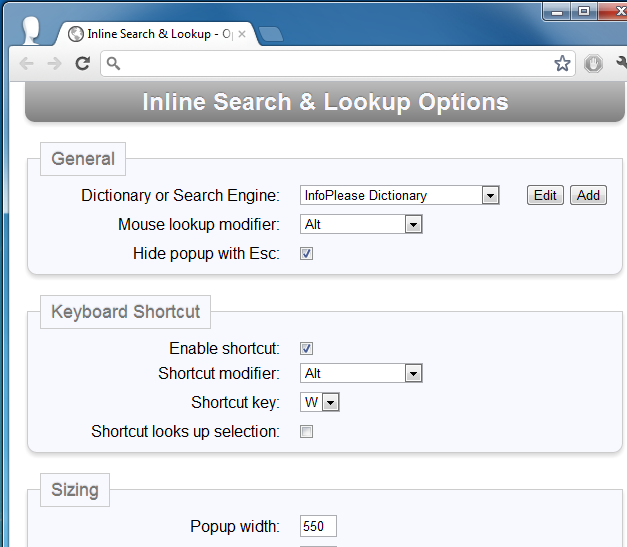 Inline Search & Lookup is a pretty neat extension that can be useful for particularly students, teachers, and researchers alike. It can also come in quite handy for people who want to improve their vocabulary. You can install the extension from the link below.
Install Inline Search & Lookup For Google Chrome