Send Email Requests So Others Can Upload Files To Your Dropbox Account
It may be a nightmare for you to ask people to email important files and you're probably looking for a simple and effective way to get it done (like perhaps sending a troop of gorilla fighters to a coworker's home and have them hold the last slice of pizza hostage until he/she emails you the file) or you could try something simpler like FileStork, a web app that combine two of the most commonly used services; your email and Dropbox, to make it easier to securely send file requests and receive files.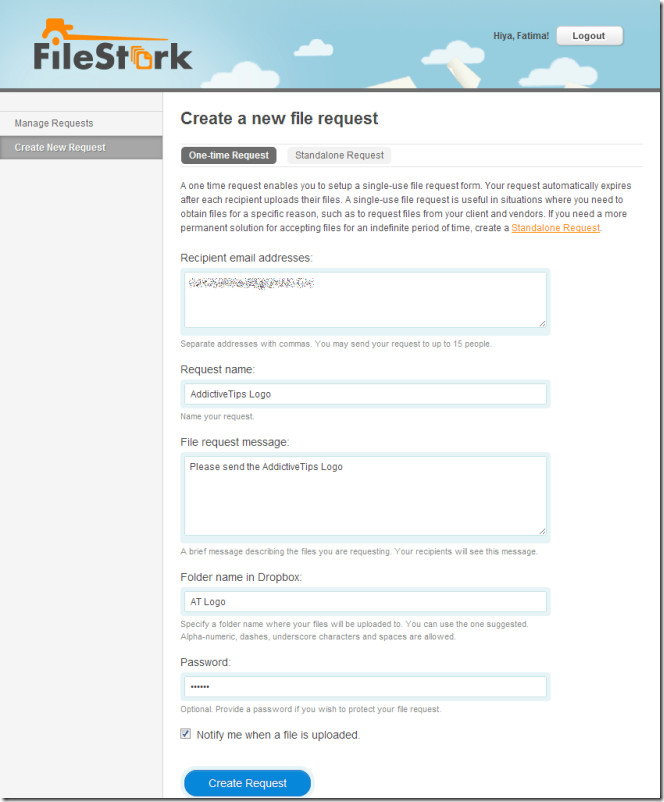 Filestork lets you create two kinds of requests; one-time and stand-alone requests. A one-time request, as the name goes, is to request a file that you only need once, a stand-alone request is when you need a periodically updated file like a weekly sales report to be sent to you.
To send a request, sign in to FileStork with your Dropbox; choose what kind of request you want to create, enter the recipient's email (recipient does not need to have a Dropbox account), name your request, enter a brief description of what you require and specify a folder name that the uploaded file will be saved to. You can choose to receive a desktop notification when the file is added to your account.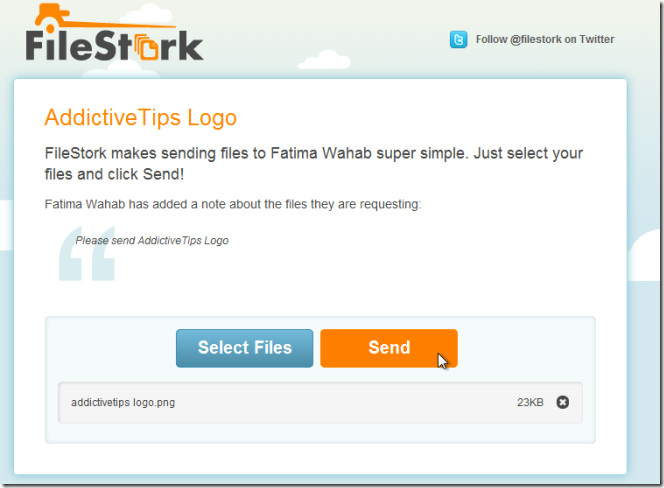 Recipients receive file requests in email, the email contains a link from FileStork. For a one-time request, the link can only be used once to upload a file(s) and expires after that. For stand-alone requests, you have to mail the link to recipients yourself and it does not expire. All folders that you create are added as subfolders to the FolderStork folder in Dropbox. You can view and manage your file requests from the Manage Requests tab.
If you choose to receive a notification when a file is uploaded in response to your request, you will receive an email from FileStork whenever one of your requests is complete.