Tagmydoc: Upload Documents & Presentations And Auto Add QR Codes
QR codes have been used in surprisingly original ways by companies trying to create a buzz for a campaign, to give out discounts or create awareness for something, but these codes can be, and are, used for so much more than just getting the word out about the latest coffee deals. One great way to use QR codes is to easily distribute documents and/or presentations. You can use different services to add a QR code to documents, but Tagmydoc is a web service that not only adds codes to your files, but also gives you 1GB of storage space to save your files in. It lets you choose where you want to place the QR code in your document, and provides you stats like how many times your document has been downloaded. You can also password protect downloading of individual files. The service supports JPG, TIFF, PNG, BMP, GIF, DOC, DOCX, PPT, PPTX and PDF file formats.
The web service can be used without having to sign up, but features like stats and the option to choose where the code will be placed will not be available, and the document will be deleted after two weeks. You can sign up for a free account that gives you 1GB of storage space, and you may store documents and presentations for as long as you like. You can upload documents of 5MB or less with the free account, while paid versions give you more storage and increase the file size limit for uploading. Once you've signed up, click Tag Document and browse for the file you want to upload from your system.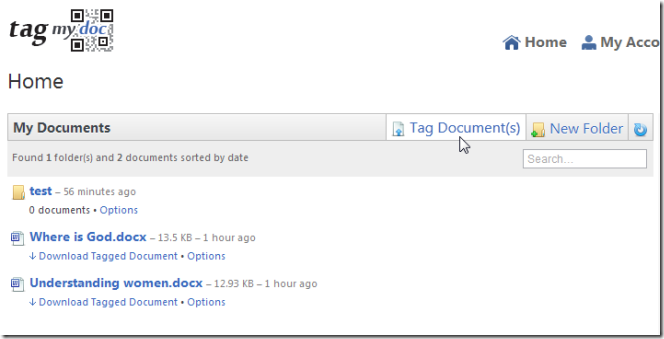 A pop-up will open, allowing you to choose which page the QR code will appear on, and where on the page it will be, i.e., which corner of the page. You can also choose to password protect documents, so users downloading the document will have to enter the password in order to grab it. You can choose to add the code to the document each time it is downloaded by anyone, so that their copy has the code in the position you specified, or you can exclude it from the document when it is downloaded by other users. Choose which page (select page number) you want the code to appear on, and which of the four corners of the page it should be on. The service also lets you add folders (you cannot tag folders with a free account), and you can save files to different folders for better management. Once you're done, click Tag Document.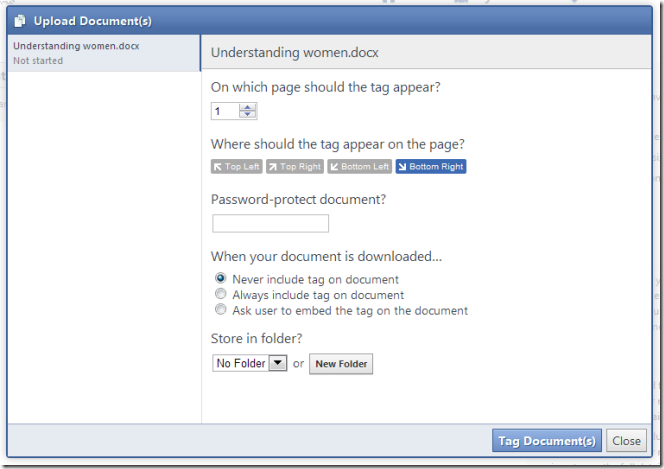 The service takes 60 seconds or less to process your files. You can click the file and download it once it is done processing. The file you download will have the QR code added to it.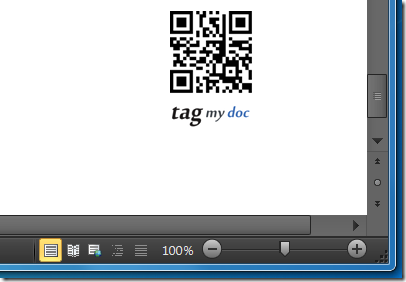 You can remove any file you've uploaded any time from the dashboard. To delete a document, go to the home page, click Options and select Delete Document.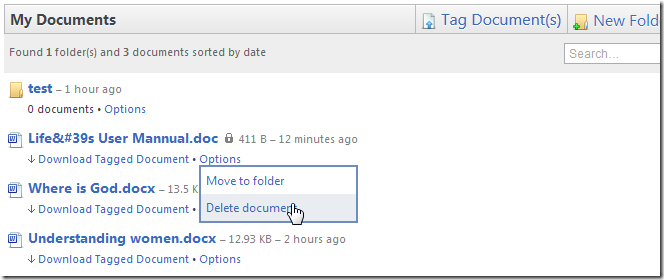 To view document stats, click on the document on the homepage. You can view how many times it has been downloaded, share it on Facebook or Twitter and add, remove or change the password. The service has an iPhone app that lets you scan and download documents, while Android and Blackberry apps are currently in the works.