Text Review: Compare Two Similar Pieces Of Code Or Plain Text [Web]
If you're a developer, chances are high that you'd have had the need to find out the difference of a div, character or tag between two almost-identical sets of lengthy codes. CSS files, in particular, can go very long, and it would be a tedious task to manually compare them. Text Review, a web application, can be of great help in such a case. It simply overlays one section on top of the other, and when you mouse over a section, the differences clearly stand out. It is a very simple and basic tool, but can be very useful for document comparison or syntax checking.
You can use this tool to compare two similar sections of code or text. Flip between section one and section two to find the differences such as broken tags, missing divs and whatever you're looking for. Text Review interface provides you with two sections, Section One and Section Two. Simply enter similar pieces of code in the text fields, and submit your input in order to see the comparison.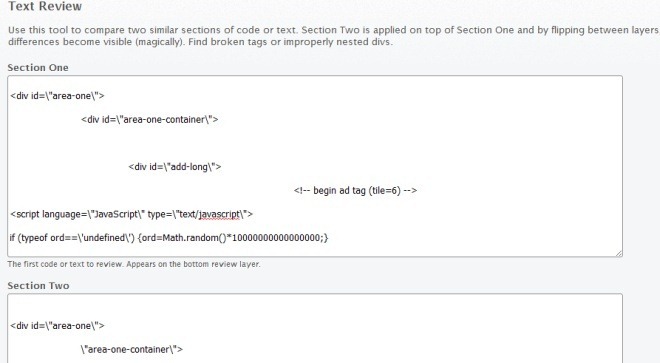 Once you click submit, results will be instantly displayed. The first section or code appears on the bottom review layer, whereas, the second one appears on the top layer. When you hover your mouse over section one, section two also becomes visible. This allows you to detect improperly nested divs, missing characters or broken tags. Furthermore, you can also use this tool for plain text.

What's not so great about the app is how it displays the results of the comparison; to say it's messy is an understatement. One snippet overlapping the other makes for very poor reading and you can't tell what the differences are. The text that's different is highlighted but with the layout being the way it is, the end results are pretty much useless. Code is displayed better and the differences are shown line for line.
Text Review can come in real handy especially for web developers, as it saves up a lot of time by letting you easily find differences between lengthy CSS/HTML code but it is a quick solution that won't always be able to help you out. The app is also extremely unlikely to replace your default differentiating app.