TheLateJar – Make Tardy Employees Or Friends Pay For Being Late
Every office has that one guy who is always late, it's likely he's the one guy every bad thing happens to like flat tires, traffic jams or no clean ironed shirts. If company policy overlooks that then there shouldn't be a problem but when tardiness from one team member starts bringing everyone else down, it's time to do something about it. The Late Jar is a web service that asks you to check in by logging in, if you fail to check in on time, you will be required to contribute an amount of money to the late jar. The service can work just as well if you have friends who are in the habit of constantly keeping you waiting and is a great way to help others realize that time is indeed money.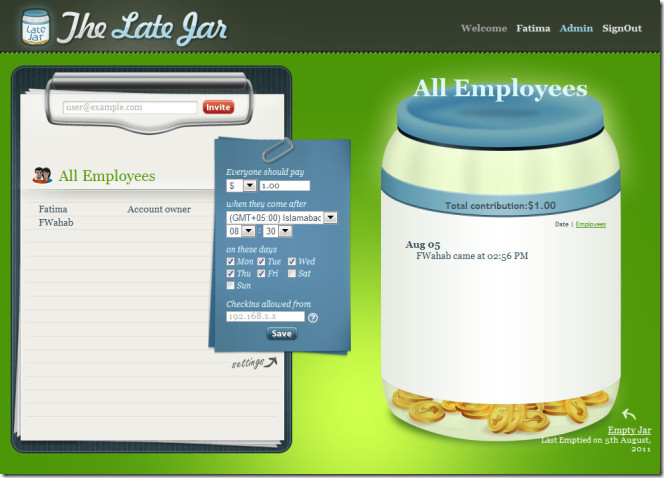 The Late Jar, one person sets up an account and invites others to join it. Each member has their own login and password but they all sign up to the same 'Jar', each JAR has its own URL. You have to set up a time slot when employees can log in and set which days they will log in. The service then works as a time management system and keeps track of how much each person has to pay for his/her late arrivals.
After a specific time, like maybe a week if you use the service for work or a month if you're tracking how many of your friends were late for movie night, you can check to see who owes what and after collecting the money, empty your virtual jar by clicking Empty Jar in the lower right hand corner next to the jar and begin again. The person who sets up the account can invite people to sign up as each group is allocated it's own URL and everyone who joins it is subject to that group's specified time.