Tixik Helps You Plan Your Travels By Places To Go & Activities To Do [Web]
Due to the hectic nature of modern life that most people are forced to follow nowadays, one needs to have a vacation once in a while in order to stay motivated, but planning a vacation is not an easy job, as often, we require to look for multiple destinations, locate tourist attractions and find out details about available hotels in our favorite vacation spots. Rummaging through travel catalogues on the internet can be time consuming, and even misleading in some cases. Tixik is a web-based application that provides you with basic information about different tourist spots, categorized according to the country you want to visit as well as the type of activity you want during the vacation, and provides a summary of your travel route on Google Maps. Read past the jump for details.
The web-app also includes useful tips which can prove to be quite handy while visiting new places. After creating an account, you can add different destinations to your Travel Plan, look for available hotels according to price range, find details about the vacation spots and hotels & locate them on Google Maps. A PDF of the complete travel plan can be easily downloaded and printed. Apart from a Tixik account, you can also login using your Facebook, Google, Twitter, Yahoo! or LinkedIn account. To start off, login to the service, enter a destination and hit the Search button.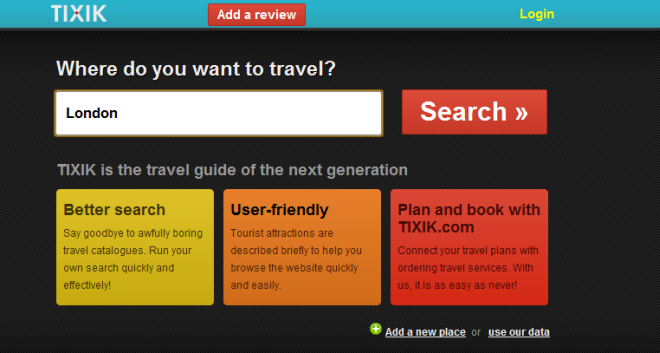 Next, you will be able to see a page with an extensive list of search results. Select your desired destination and click the Plan a trip button.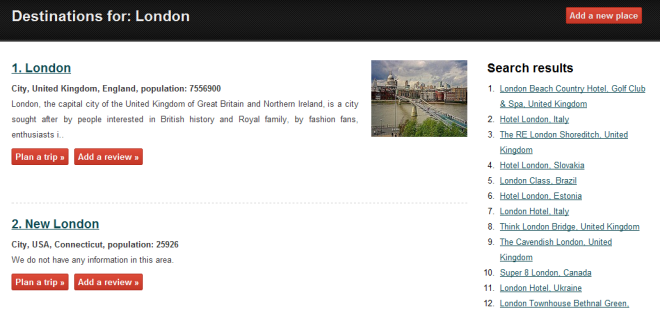 Tixik will then allow you to view popular spots, museums and activities using Google Maps. When you come across an interesting place, hover your mouse pointer over it, and click it to add it to a particular day. Once you've added a place to the trip, the image thumbnail will be highlighted, allowing you to easily distinguish between the added and other places. In addition, you can click the add one Day button to increase the number of days and zoom in/out of the map to add more places.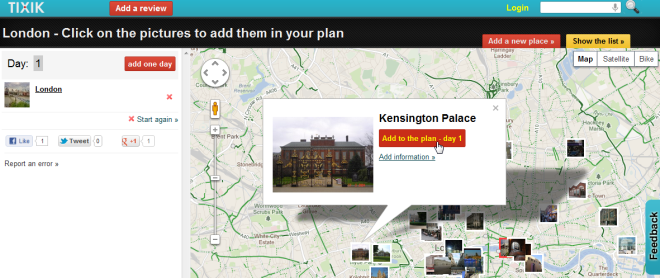 Once you've added all the places you want to visit, and when your plan is complete, Tixik will let you view an entire guide for your trip. You will be able to see places for each day and a summary of the map. Click Finish the plan button in order to print or download the plan in PDF format. Once an itinerary has been generated, you can edit, print or delete it, depending on your preferences.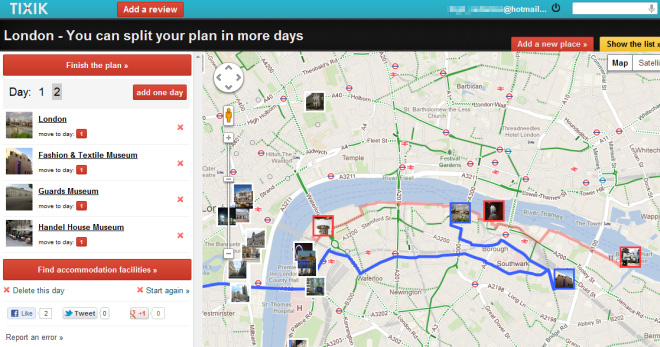 Tixik gives you comprehensive search results with the best and most popular places to visit. This handy tool also lets you filter hotels by multiple options to help you find an accommodation that suits your needs. If you're going on a vacation sometime soon and want to plan your journey, then visit the link below and give Tixik a try!