View IE9 Supported Jump List Tasks For Websites In Chrome
Internet Explorer 9 has something Chrome doesn't; it lets you pin website in Windows 7 taskbar. Since the taskbar has limited space and easy access, this feature gives you faster access to your favorite websites than the bookmarks you've saved. For Chrome users who think it's unfair they can't pin tasks from websites, they can install IE9 Jump List Tasks extension for Chrome.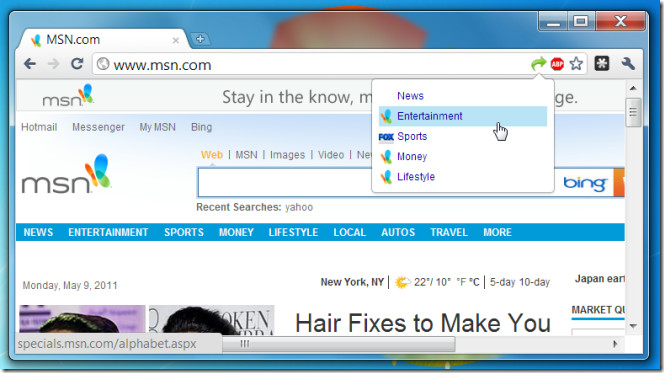 The extension doesn't give you the same functionality as IE9 but it lets you access the jump lists on websites (where they've been added) through Chrome. The extension appears as a green arrow in the OmniBar when you access the tasks added by a website supporting the jump lists feature. The extension will not just create lists out of links on the website, they have to be there to begin with, the extension will only detect them and make them usable in Chrome. It's a way for Chrome users to access to the lists, but it can also be a convenient way for IE 9 users to check if the sites they are visiting have added the feature or not. They can add the extension and check the sites in Chrome.
Install IE9 Jump List Tasks For Chrome