Stream Photos From PC Or Mac To Your iPhone With AirFoto
Due to all the complexities involved, people usually avoid the use of iTunes for something as trivial as importing a few photos to your iPhone. Even if you have mastered the use of Apple's syncing suite, there are occasions when you don't have enough time to wait for your whole device to sync with your computer. At times like these, an app like AirFoto can prove to be a real lifesaver. AirFoto offers its users a desktop server application, which can be used to host photos stored on your PC or Mac so that they can be accessed from your iDevice without syncing. The desktop server searches for photos on your computer automatically, making the iPhone end of the whole thing as easy as launching the AirFoto app and browsing through the hosted albums. Shared images can be viewed in the form of a slideshow, and saved to your device as required.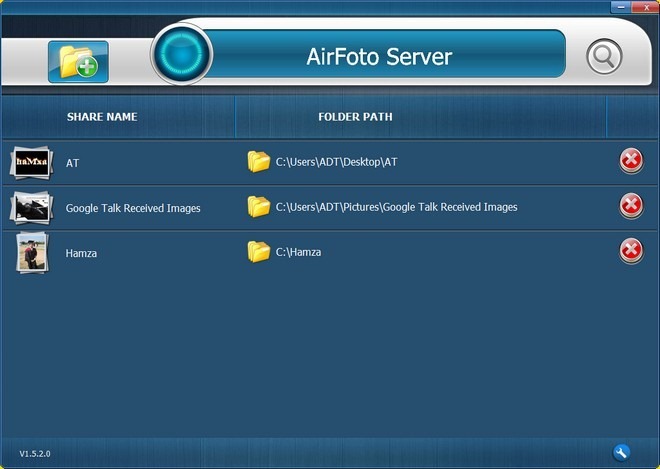 Since AirFoto for iPhone works only in combination with its desktop companion, you should download the server application from the AirFoto website (link at the end of the article) before launching the iOS app. The AirFoto server offers one-click installation, and there aren't any complicated configuration steps involved in setting it up. When the application is run for the first time, your computer will be scoured for any folders containing image files. You can skip this step, or delete some of the detected folders afterwards. To manually add a folder to the server, hit the button in the top-left corner, and direct the application to its location. Once you are done adding folders to the server application, launch the iOS app.
As soon as the app is launched, it will scan your Wi-Fi network for running AirFoto servers. All you have to do is select the required server when it's detected, and all the photo albums shared through it will be displayed. The app gets updated automatically as soon as any changes are made in the server application. Once inside the album, everything is pretty much similar to the stock Photos app, except that there is no batch-select option available.
The aforementioned slideshow can be started by hitting the play button in the bottom bar. You can tinker with slideshow options from the app's settings menu. The same menu lets you set image quality and default orientation of photos. The sharing menu for each picture is reminiscent of the native sharing menu in iOS 6, with options including email, Twitter and Facebook. To save an image to the camera roll, hit the Add to Album button in this menu. The concept behind AirFoto isn't all that unique, but it is one of the simplest solutions of its kind. The app is universal and available for free in the iTunes App Store.
Download AirFoto Desktop Client