Corel's Pinnacle Studio Brings Easy Yet Powerful Video Editing To The iPad
The iPad offers alternatives to almost every application that you can find on a desktop computer. Be it games, photo editing or word processing, the iOS tablet has you covered. There are still some things, however, that just aren't associated with an iPad. Moviemaking is one such thing. While there are desktop tools like Windows Movie Maker, Adobe Premiere Pro, Sony Vegas Pro and Pinnacle Studio for PC, the iOS App Store lacks such quality in this department. That's what makes Pinnacle Studio for iPad so special. The mobile version of Pinnacle Studio is actually a revamped version of Avid Studio, an app that was acquired by Corel a while back, along with other products by Pinnacle Systems, a subsidiary of Avid Technology. Pinnacle Studio is quite feature-rich, but that does not mean it is very difficult to use. The app's look and feel is quite similar that of its desktop counterpart, so if you happened to have used the latter, it should just take you a few seconds to find your bearings – or a few minutes even if you don't have any prior experience in moviemaking.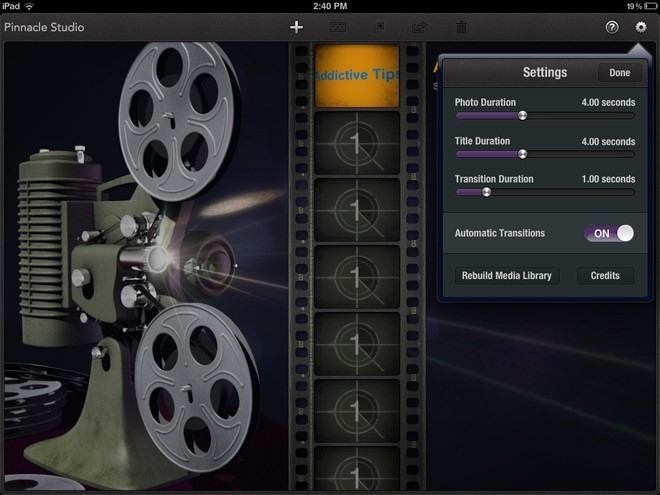 The functionality is the same that drives all video editors – you can photos, videos and music together with transition effects in between. Unlike most other mobile video editing apps, however, Pinnacle Studio's video editing is timeline-based. That is, you can view and adjust all media clips within an elaborate timeline or, as the app labels it, a 'Storyboard'.
Before you start creating a movie on Pinnacle Studio, it is better if you take some time to tinker with the app's settings. It is from the Settings menu in Pinnacle Studio that you can choose to set the Photo Duration, Title Duration and Transition Duration. If you want to reduce your workload, just toggle on Automatic Transitions so that you won't have to add an effect manually between all the photos or video clips being stitched in the movie. When you are satisfied with the settings, hit the '+' button in the top bar and Pinnacle Studio will create a new blank project for you.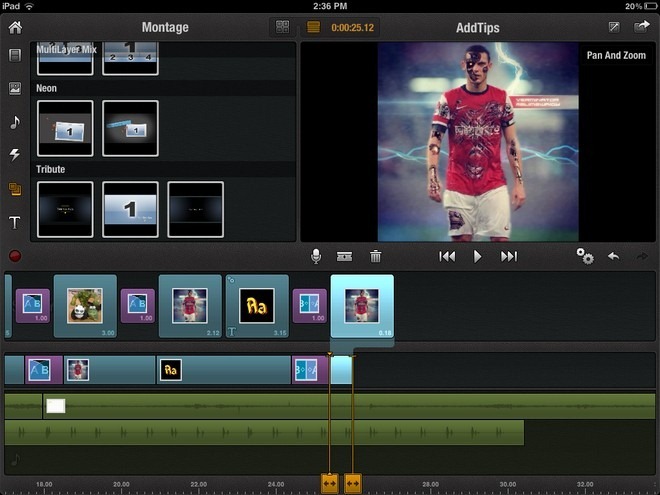 You can import any media file you want to your Pinnacle Studio projects, shoot a video or photo right from within the app, and add it to the project. The same holds true for audio. You can record audio clips by hitting the microphone icon above the timeline, import songs from your iDevice's library, or use the app's many pre-included sound effects.
After importing any of these media clips to the Storyboard, you can adjust their position and timing using the slider at the bottom. From the options available in the sidebar of the editing screen, you can add titles and transition effects of your choice between clips in the movie. The app has an impressive assortment of title templates. All you have to do is add your text to a template and drag the newly-created slide to the Storyboard.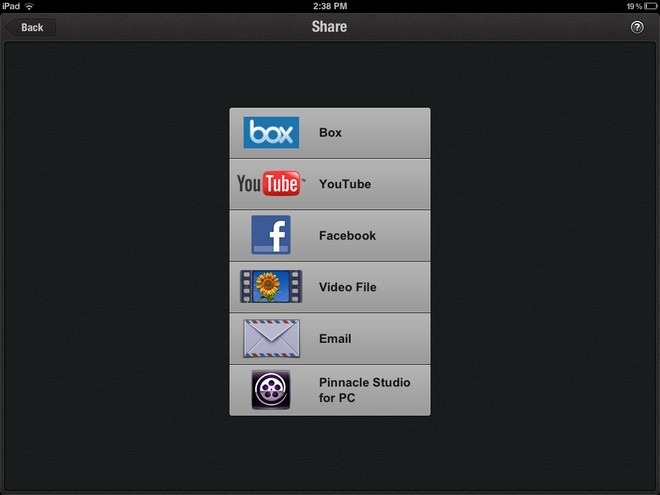 When you are done creating a movie, the next step is to save it to your iDevice in a resolution of your choice, or you can choose to share it online right from within Pinnacle Studio (to YouTube, Facebook and through email). The app comes with Box integration, using which you can easily transfer projects from your iPad to Pinnacle Studio for PC. The app is available as a free download for a limited time, and will run on iPad only.
Download Pinnacle Studio For iPad